Ben + Vesper's "LuvInIdleness"
Holly Etchison review's the bands February 2010 release on Sounds Familyre records.
Holly Etchison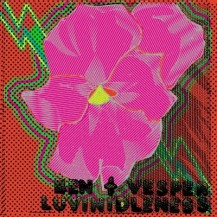 9.5
out of

10

LuvInIdleness
February 9, 2010

Yet mark'd I where the bolt of Cupid fell:
It fell upon a little western flower,
Before, milk-white, now purple with love's wound,
And maidens call it love-in-idleness.
-William Shakespeare, A Midsummer Night's Dream
Serving as a sort of surprise hiccup between the releases of their first and second full length albums, and just in time for Spring, love is in the air in the form of Ben + Vesper's neon pink and green, Sufjan Stevens-produced EP, LuvInIdleness. For all its five song humility, it is a work of epic proportions, riding to our ears on sounds alternately simple and marvelous; the back cover's graphic art donkey silently stares in agreement. Cryptic yet touching prose, weaving harmonies, and rich instrumentation- these songs make you happy to be alive in an interesting world and glad that there is a "+" betwixt Ben and Vesper.
The lush vocals and piano streams sweep you right into the first song, "Singing Swords." Is it Elvis Costello or Abba? You may be about to decide when the grunge of a garage guitar changes the tune and things reach a crescendo. You have been wandering and feeling your helplessness -"Believe me, this faith has flown over to meet me: A bumbler, wuz a mumbler (number) in a winding queue."- but ten mysterious singing swords ask "What's to fret about?" and we all breathe a sigh of relief.
"The Big Conversation" carries things on with a gentle melodic beat. The vocal harmonies are lovely and clear. The lyrics hinting at a parable for life's work: "It's a mime's climb to the top of the hill / the good life is too good to be true / Give them what they need / A bike with more than one speed / Give them what they dream / A love that is supreme."
Tender and atmospheric, you can feel Sufjan in the room on "I Ask Because I Can." Sort of an eerie luao set somewhere in the Blue Ridge mountains, ghostly voices sing under the stars the transcript of a private dialogue about someone's father. The lyrics advise: When things get too painful, watch a movie, order take-out, but still, someone cares for us in all our self-avoidance and padding.
The title song, "LuvInIdleness" is a jaunty, hopeful tune. Idle hands have produced no good, the ship of your life has been idling, but your love is sought, fought, and caught. It's a two part round, an angelic opera cheers you on…"Now that we're married, now that we've carried, Press after him on the height, vaulting, clearing the mountain whites" ..now you can not only sail forward, with this love you can fly.
The problem of the boat who's lost its oars, the burden of the prophet who, like Jonah, is stranded out to sea with a message to bring is pondered in "Oarless Oaracle." We are all humming the tune of this spiritual, we are sun-sick and weary, the deeps of the ocean have proved darker and more treacherous than the sandy river bed where we first learned to swim, scrappy and barefoot. Little Tom Sawyer is hearkened in all his carelessness. And we are left contemplating safety, solitude, and holy song as the ship reaches a silent shore.
Like the flower of its namesake, LuvInIdleness is a small musical bloom with special import, popping up out of nowhere, its fragrant potion weighty, yet beautifully crafted songs that will leave you wanting more "luv" from these two, "in" or out of "idleness."