The Heap's "Deluxe"
"So, what are my first thoughts upon hearing The HEAP? Thank God they have a trumpet player." -HM
Guest Writer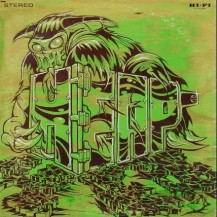 7
out of

10

Deluxe
January 2008

So, what are my first thoughts upon hearing The HEAP? Thank God they have a trumpet player. Seriously, when I see a band attempting to get that funky soul sound and they don't have a trumpet player, I shut my ears off. Ok, I'll admit my bias now. I am trumpet player from way back. Being such, I know a good trumpet player when I hear them. The HEAP's Jeff Crouch is really good.
I have to admit though, if you are going for less like Cake and more like Sly and the Family Stone(just one of their many influences listed), you want some other supporting instruments. Trumpets work best sometimes situated with some great saxophone players and that is something The HEAP isn't lacking. Marc Gilley on Tenor Sax and Chris Costigan on Alto and Baritone Sax really add that depth that many bands don't have and never will attempt. The opening song of Deluxe, "One of Those Days," keeps it in the traditional jazzy funk school and starts the party well. This literally will go on my party soundtrack this summer, perhaps as the opener as well.
The band has two bass players and Diego Catalan, and separate percussionist from the drummer. If you are going to have two of the same instrument for a jazzy funk soul band, there is no better combo than bass. Lead singer Bryan J. Howard takes the lead in bass,but keeping it all tight are Jason Rieter also on bass and on the skins Ian Werden. Having played bass in jazz band, those two are the glue. To improv well, you need something you come back to. You need that home base. These two provide that base well for my favorite song of the album, "Alcohol."
"Alcohol" has a guitar riff not unlike something from Rage Against the Machine, made a little more jazzy. The whole song takes a jazz experimentation element to it that I really dug and put on repeat. It has hints of Miles Davis and John Coltrane, around the Kind of Blue era. Melodic but yet still experimental. This is the stuff Dave Matthews Band should be doing if they have guts. Wait, I take it back, let The Heap do it. They do it better. Anybody who make me think of Rage Against the Machine and Miles Davis in the same song has something special.
Howard's vocals growl along in each song, leaning towards a Dr. John kind of control throughout. I think an album doesn't do justice to a voice like that. You got to feel it in a live setting. To be honest, I didn't think about the lyrics too much. I was focused in the music and look forward to digging into them after I get over admiration of the musicianship. "Watchin" is another song that stood out to me. I couldn't decide who I'd love to hear cover it more, James Brown or Otis Redding. Howard relaxes a bit with this song, taking it low and keeping it more towards soul on top of the funk elements. There are some serious music chops in this group as I said earlier. Some of the nicest touches come from Paul Kim on the ivories. He fills in the organ and keyboard in just the right spots. Overall this band is super tight sound wise and you would expect nothing less from a group working hard to bring a different sound to Athens as they say on their MySpace page. I am familiar with that scene and know they are original in their take on the Athens sound.
Overall, the production is pretty solid though it is obvious with a band like this, a recorded album does not have the same energy as a live show. This is the kind of music you will dance to and its meant to be danced to live. Honestly, it loses points because of that. The production seems a bit too slick at times and it is missing the edge the
songs have. Perhaps on vinyl it might have more warmth and pop to it than the digital recordings.
I hope that the instrumentals of the songs are included on the real album, not just the press one I got. Howard's vocals are all that are stripped off and here you can really hear appreciate the musicianship of all them including Howard. Seriously, if they decide to revamp the Blues Brothers and why the heck not, as Hollywood is revamping Spider-man already, this should be the soundtrack. Better yet, put in on your summer party playlist.
-Hannah Marney, April 26, 2011