July 2015 "Band of the Month" – HIPPO CAMPUS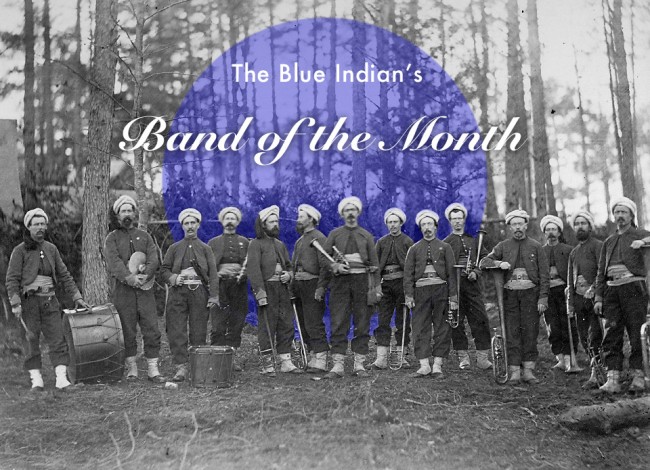 Started in January of 2012, the "Band of the Month" feature has allowed The Blue Indian a unique opportunity to share some of our favorite bands with our readers. As we move into our fourth year of the feature, we're eager to continue showcasing some of the best and brightest bands around. Thanks for the continued support!
Hippo Campus is four Minnesotan boys making music that is simple, joyful, and thematically soaked with the sense of cynicism accompanying the youthful search of self-meaning. The band's debut EP, Bashful Creatures, was released November 18, 2014. Recorded over two days at Pachyderm Studios in Cannon Falls, MN, the EP was produced by Low's Alan Sparhawk. Hippo Campus has toured internationally and played with My Morning Jacket, Walk The Moon, and Modest Mouse. Summer 2015 will include performances at Lollapalooza, Leads and Readings Music Festivals.
Facebook | Twitter | Instagram | Website
My knowledge of the musical history of Minnesota is quite limited, starting and ending with The Replacements and ending with First Avenue, but there's obviously much more going on.. What differences have you all found between playing, writing, and recording in your home stage verses experiences elsewhere? What artists from around the state should we be listening to?
Jake Luppen: We've only really been on tour for three months now, but the road always seems to make us miss home that much more. To us there's truly no place quite like the Twin Cities. The fans and musicians alike have built a sense of community that is difficult to find in other major music markets around the United States. We can't really speak to writing and recording outside of our hometown though as we've only really done those things at home.
Some great artists from the cities are: Lizzo, Low, Trampled by Turtles, The Stand4rd, Allan Kingdom, Spooky Black, Psymun, Bobby Raps, Danger Ronnie and The Spins, Chalk, Burn Fetish, PTSTD, Mountain Opera, Unknown Creatures and so many more.
What was recording with Alan Sparhawk like? The Great Destroyer, among others from their collection, stands out as one of the better rock records from the past 10 years I think.. How did you all wind up meeting him and realizing he was to play an integral part in getting your music out to the world?
Nathan Stocker: We first met Alan before a show we played at the Amsterdam in St. Paul last summer. Our bands share a management team and we had been rough-sketching ideas for an EP to be recorded in the fall. Alan produced the latest Trampled by Turtles record and the man's a legend so it was rad to have him on board as a producer. 
The songs we had picked out for the EP were tunes we had flushed out and edited multiple times that summer, so there wasn't much to be done in terms of re-structuring or arrangement, which gave us more time to focus on capturing the right takes with the right energy. Because of our 2 day time (funds) crunch, we tracked the tunes live in the room together with minimal overdubs added afterwards. Alan has a knack for keeping the ball rolling. When we had played through a song 10 times, he provided the extra push for one more take, either by experimentation with sonic tonality, or simple encouragement like, "You guys are the coolest guys in town, and that's how you should play."
We have mad love and respect for Alan as a mentor and friend. The dude is one of a kind. 
Your debut EP Bashful Creatures offers a uninhibited view of youth; growing into it, living out those moments, and moving away from it. I'm really curious about how you all constructed lyrical writing on the record and addressed the themes that you did, making personal subjects so relatable… 
Nathan Stocker: Bashful Creatures ended up being a lot more cohesive than we initially intended. That seems to be a common circumstance with any body of work, though. Higher forces have a final say, and there's a point where you have to step back and surrender your ownership of the songs, even though the songs owned you from the beginning. 
These tunes were birthed from the great catastrophe of teen hood, and all the beauty within that. So from the get go, the lyrics were there, they just wanted out. We all analyzed and processed our experiences together and that made things easy. It was therapy, in a way. Having finished a unique high school adventure together, we wanted to encapsulate what we were feeling for ourselves and our friends, who inspired as much as they helped. Improvisation played a role too, starting from scratch and "faking it" until you have some dough that looks promising, then double-taking and asking yourself where it all came from. 
Opportunities were quick to come available for you all, having played alongside Modest Mouse and My Morning Jacket and spent time touring overseas.. For any of you, is there a standout moment where you realized that the music that you'd created was in lots of ways responsible for these opportunities?
Jake Luppen: While there have been so many of these moments for us, I think the first major one was our performance on Conan O'Brien. The moment we arrived on the lot of Warner Brothers Studios, our perception of what we were doing changed. We were no longer just a Minnesota band writing songs to make our friends dance, we were living the childhood dreams each of us had when we first started playing.
More recently the first show we played with Walk the Moon in London was a very surreal moment for us. It's an incredible feeling to have your own music bring you somewhere outside of your own country, especially because so many of our influences are from the UK.
You're heading out for a string of dates in the UK with Modest Mouse and you'll be returning later in the year for Reading and Leeds. What has the overseas experience been like for you all previously and what are you looking forward to about the upcoming dates?
Jake Luppen: I think anytime you travel and make music it's the perfect recipe for inspiration. The UK has such a rich musical history that can definitely be felt as you travel along the countryside. It's really a treat every time we come back.
Touring with Modest Mouse is definitely one of the more surreal moments of the whole experience. We have all been listening to them since we first got into music. When we first started the group I don't think any of us would have thought we'd be playing with anyone of that caliber and track record. At this point, I think we are still trying to wrap our heads around everything!
Aside from the dates that are already announced, what does the rest of 2015 hold for the band? Anything that you all are personally excited for outside of touring or playing music?
Whistler Allen: We are looking forward to some quality work out time. Get our guns nice and ready for the 2016 campaign. By guns I mean our arms. Play the Masters video game. Sleep. Work out. And visit as many state capitals as possible to give speeches. 
Hippo Campus for Pres. 2016  
You all will be making your debut in Middle Georgia later this year at the 12th annual Deep Roots Festival in Milledgeville, alongside headliners Dale Earnhardt Jr. Jr. and a stacked lineup of other acts. Have you all played in Georgia before, and if so, what was it like? I can say with confidence that Deep Roots will be one of the most enjoyable festival experiences you all have had yet, so get ready… 
Zach Sutton: We haven't played in Georgia thus far in our career but we're excited to hear our debut will be among respected bands, and a most enjoyable festival. We've been fans of DEJJ and Bronze Radio Return for sometime so we're pumped to hit the stage and rock some tunes with those guys. 
Lastly, what's the best or worst advice that you've been given over the last year?
Whistler Allen: Some of the best advice we have been given was to "keep the small things small." Meaning don't let little things irritate us while we are on the road and spending every night and day with each other. Breathe deep. And stay balanced. The worst advice we have been given is simply "get the coleslaw." 
Upcoming Tour Dates
7.3 – The Lexington – London, UK
7.5 – The Institute – Birmingham, UK
7.7 – The Ritz – Manchester, UK
7.8 – O2 Academy – Leeds, UK
7.9 – O2 Academy Newcastle – Newcastle Upon Tyne, UK
7.10 – Helix Theatre – Dublin, IE
7.16 – Santa Monica Pier – Santa Monica, CA
7.21 – Wall Amphitheatre, U of W – River Falls, WI
7.31 – Vic Theatre – Chicago, IL
8.01 – Lollapalooza – Chicago, IL
8.06 – Red Rocks Amphitheatre – Morrison, CO
8.12 – Peabody Opera House – St. Louis, MO
8.13 – Starlight Theatre – Kansas City, MO
8.14 – Summer Sounds – Cedarburg, WI
8.15 – Summer Set – Somerset, WI
8.22 – Cultivate Festival – Minneapolis, MN
8.28 – Leeds Festival – Wetherby, UK
8.29 – Reading Festival – Reading, UK
10.24 – Deep Roots Festival – Milledgeville, GA
Hippo Campus – "Souls" Official Video
[youtube id=FYfLYLc2uMI]