June 2014 "Band of the Month" – VALERIE JUNE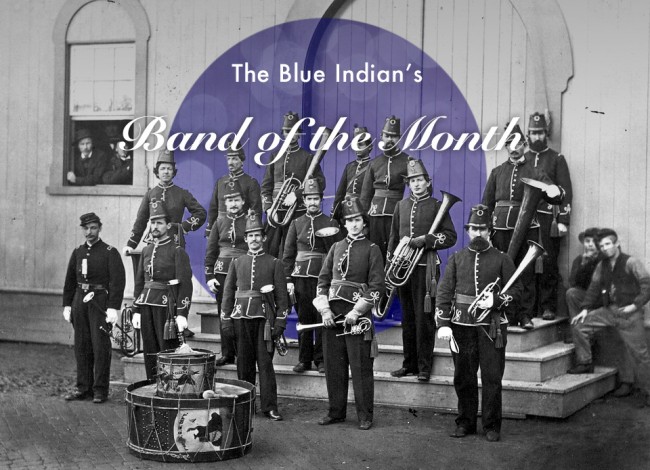 Our "Band of the Month" feature began in January 2012, featuring Savannah-based trio CUSSES in a short interview that gave readers a glimpse of what to expect from one of Georgia's hardest working bands. We then landed an interview with Of Monsters and Men right before they broke and would then go on to include acts like Ponderosa, Cheap Girls, Swear and Shake, Jonny Fritz, Torres, The Districts, and more over the next two years. 
So as we move forward into 2014, our entire staff would like to extend thanks to the artists who have taken the time to speak with us and the readers who have been so dedicated to supporting the site.
I came across Valerie June thanks to the people at Nelsonville Music Festival over the weekend of May 29th – June 1st. Held in Nelsonville, OH, the beautiful, small-scale festival was home to The Avett Brothers, Dinosaur JR, Shovels and Rope, and one incredible performance by Ms. Valerie June herself! Mid-afternoon on the last day of the festival, Valerie June made her way onto the Main Stage for a set that fell right between Ray Wylie Hubbard and Shovels & Rope. Amidst the setting sun and surrounded by an array of instruments, she led the crowd through an hour of eerily beautiful tunes she describes as "organic moonshine roots music".
From performing at the ACM's with Eric Church to recording an album with Old Crow Medicine Show, it seems like there's not much Valerie June can't accomplish. Her new album, Pushin' Against a Stone, was released last year to praise from fans and critics alike.
She is on tour throughout the rest of 2014.
First and foremost, your recent set at Nelsonville Music Festival was incredible! The team at Nelsonville have done an amazing job of continually surprising their guests with talented acts that share a similar dynamic with the Festival and you were easily one of the standout performers this year. It seemed like you were completely enjoying yourself at there but any high points from the weekend?
I really enjoyed the backstage hang at Nelsonville. I got to catch up with long time pal, Ray Wylie Hubbard, and meet Shovels and Rope! What excellent company!
If I heard you right, you describe your music as "organic moonshine roots music". How'd you come to that description?
Hanging out with a friends and trying to create magical name for everything folks were calling my sound.
You spent some time at Nelsonville talking about being very involved in the church when you were growing up and how the first part of your life really molded your artistic vision and talent. These days, do you have the time to ever make it back to church and sing or are you on the road too much? You mentioned how much blues music means to you still, but I was curious if you ever revisit the gospel classics that you grew up on..
I sing a southern spiritual at almost every show. I only go to church as I did then when it's a special family time.
Early last year, you joined Eric Church for a duet at the ACM Awards for a duet performance in front of an audience that, I expect, wasn't too familiar with your music. I imagine you wouldn't consider that the biggest highlight of your career but I found it really interesting considering the usual content of country music awards shows.
I love country music! Old country is a near kin to old blues. They've always slept in the same bed, so it was no surprise to me!
Between Dan Auerbach and Kevin Augunas alone, you worked with some impressive artists on the record; Walk me through the writing and recording process and some high (or low) points of the process?
It was like fall going into winter. Heavy, but with brilliant colors…Chilly, but with moments of mild, warm winds…
You seem to be a champion of Southern culture – from the blues artists you mentioned you were so heavily influenced by to your love of gospel, of Dolly Parton, of Appalachian roots, to the positive and hardworking outlook on life you shared with the audience at Nelsonville… Which leaves me curious about what prompted you to settle in Williamsburg of all places?
I moved to NY for love.
Unless of course you felt like they needed a bit of Southern love..
They love Southern culture!
I understand that European audiences have been incredibly responsive to your music, perhaps even initially more so than audiences here in the States? What are some of your favorite experiences from your European visits?
The Provence Region of France and the excellent hospitality of the French venues.
Going back to the beginning of things, do you remember your very first show as a solo performer?
Yes, it had to be a Java Cabana Coffeehouse in Memphis, TN. It's a lovely little quirky place!
What professional advice would you share with that Valerie June if you could go back to that night?
Quit everything that isn't music and believe in yourself!
What have you been listening to and reading recently?
I got a stack of Loretta Lynn on vinyl. It's overtaken me. I've been reading countless articles on diabetic living and recipe books. Boring to some, but interesting to me!
For dinner, drinks, and a good show, what places should we visit the next time we get to visit Memphis?
I'd say stop in at Fresh Slices Deli at lunch, Central BBQ for dinner, Java Cabana for a coffee and Wild Bill's for music!
Valerie June – "Workin' Woman Blues"
[vimeo id=59662448]