Bragg Jam Music Festival – July 25th, 2015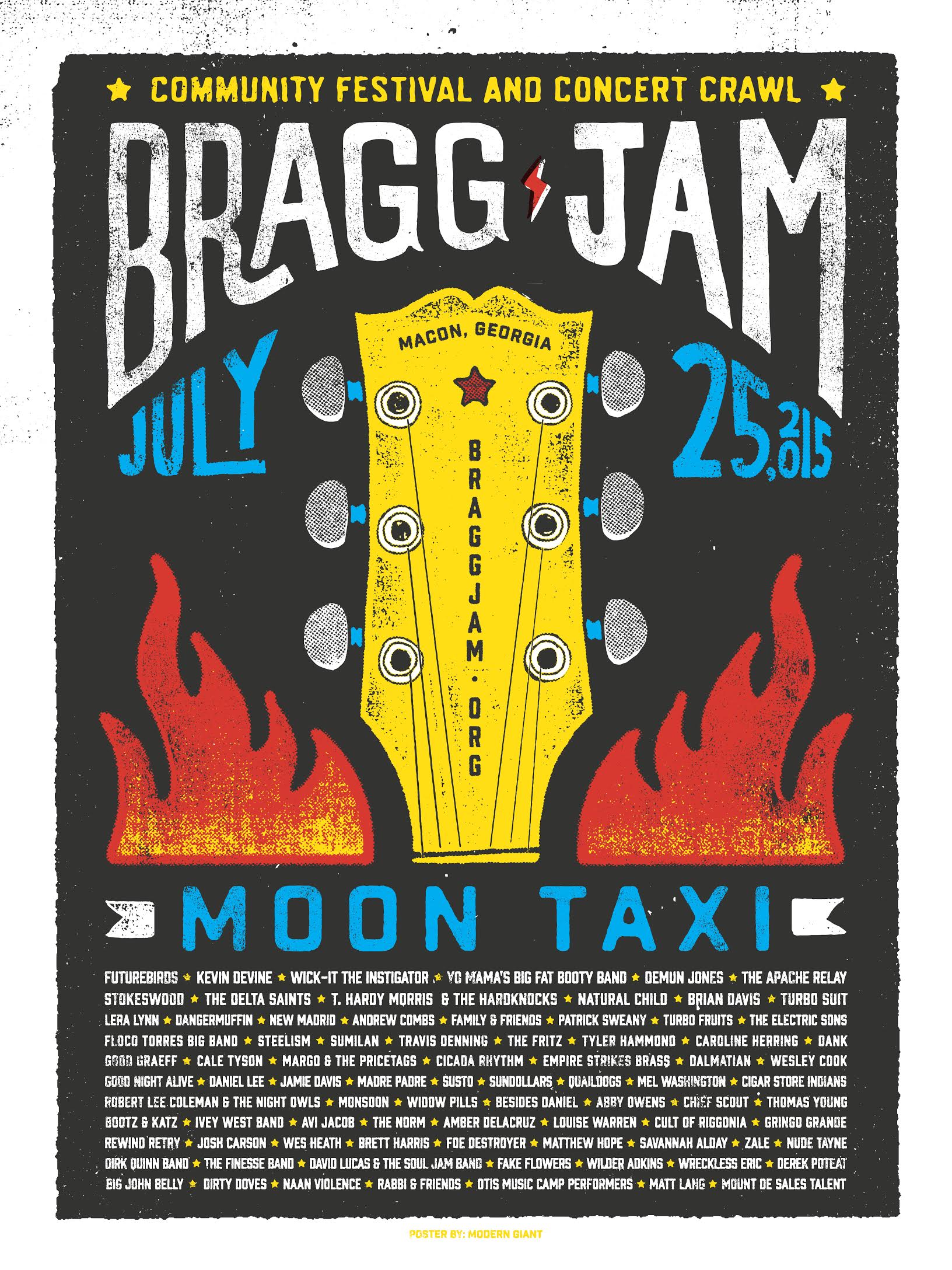 The Bragg Jam Music Festival returns to Macon, GA on Saturday, July 25th with the largest lineup in the organization's history, featuring more than 80 acts spread across 21 venues and stages around the city. Inspired by late musicians and brothers Brax & Tate Bragg and operated as a 501c3 under a volunteer board of directors, Bragg Jam has now given over $150,000 back to local charities in memory of Brax and Tate. Proceeds will continue to benefit the Ocmulgee Heritage Trail and other efforts that promote nature, art and music in the community. Since 1999, Bragg Jam has evolved from an impromptu jam session to citywide music festival to a full-scale arts festival and Macon's premier music event. Notable past Bragg Jam performers have included Zac Brown, Jesco White, Drive-By Truckers, Andy Hull, The Dirty Guv'nahs, The Blind Boys of Alabama, The Front Bottoms and countless others.
Bragg Jam is pleased to offer a variety of ticket packages starting at $20, including a VIP option that includes tickets for both the Music Festival and the Macon Film Festival (July 16-19). Bragg Jam & Macon Film Festival have partnered in 2015 to promote more than ten days of arts and entertainment.
Along with the Music Festival, Bragg Jam produces the Arts & Kids Festival (July 25), the Moonlight Miles 5k (July 11th), and Second Sunday in the Park (through October). More information on each event is available here.
Along with headlining act MOON TAXI, the lineup features performances from FUTUREBIRDS, KEVIN DEVINE, YO MAMA'S BIG FAT BOOTY BAND, DEMUN JONES, THE APACHE RELAY, STOKESWOOD, THE DELTA SAINTS, T. HARDY MORRIS + THE HARDNOCKS and more than 70 other acts. Bragg Jam will be releasing the performance schedule for the Music Festival on Sunday, July 12th. RSVP for the official Facebook event here. Check out the complete playlist for Bragg Jam 2015 on Spotify.