November 2015 "Band of the Month" – MIGHTY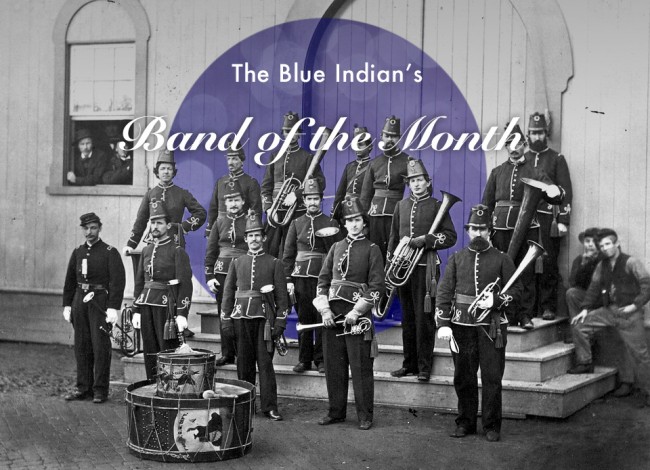 MIGHTY, the grimey, Atlanta-based project of Pittsburgh transplant Angelo Fiaretti, is off-kilter garage rock with (more than a modest) grunge influence. His lyrics revolve around the subjects of revenge daydreams, paranoia, drugs, and self discovery—when he isn't poking jabs at the gloomy culture of high school bullying (fuck those guys, right?). MIGHTY was conceived after Fiaretti, now age 20, dropped out of school when he was 16 in an effort to distance himself from the threats of local assholes, and choosing instead to spend his days immersed in the local DIY punk and indie scenes. In the cold, dim basements of office buildings and neighborhood garages, and in community-run art galleries, Fiaretti found his voice and MIGHTY was created.
In 2013, Fiaretti moved to Atlanta looking for a fresh perspective and new collaborators. It was there that the young songwriter connected with Daniel Gleason (Grouplove, All Get Out) who would help bring MIGHTY from raw, mangled scrawls to refined underdog anthems. The debut MIGHTY EP, Bye, Have Nice!, simultaneously embraces classic influences (Dylan, Cobain, Page & Plant) and forges new territory. The five tracks were recorded over the course of an impetuous five days on a shoestring budget entirely in Fiaretti's kitchen (jokingly referred to as Ant Hill Studios, for a serious infestation). The debut EP is rounded out by Gordon Keiter (All Get Out) on drums, Gleason on bass, guitar and keys, and CJ Ridings (Big Jesus) on bass, guitar, and keys. Gleason also served as producer, with Ridings engineering and mixing.
Bye, Have Nice! is scheduled for a November 6th digital release via songintheair, with a late winter vinyl release to follow. If you pre-order the vinyl from songintheair, you get an immediate download of the EP. EP2 is currently being worked on. – MightyTheBand.com
Facebook | Website | Instagram | Twitter
I understand you're originally from Pittsburgh, correct? What led to life in Atlanta and what are the major differences that affect you, and how do they?
I'm a pure yinzer at heart. Decided to move to Atlanta because of the success I've seen with so many bands down here. I didn't want to move to some oversaturated city like Nashville, so Atlanta seemed cool. The funniest part is that aside from a couple open mics, The Stuffing will be the first MIGHTY show in Atlanta.
I miss the beautiful community of the DIY scene in Pittsburgh. Kids just know how to party in the Burgh. I mean I have a rare breed of friends up there. Some Butler county redneck hippyish dudes who are all great artists. I would never be able to find that anywhere else. They understand me. We skateboard and ride dirtbikes. We go field stomping, It's fantastic. In Atlanta I don't really go out with anyone (or literally outside for that matter). I'm just not a city kid at all. Living in the middle of it really freaks me out. I'll hit up a couple shows every once in a while. Also the festivals here are insane… don't know if you guys realize that or not hahaha. Always a crazy big lineup for any fest here.
I typically don't ask bands about their names because the responses typically fall somewhere between "it has no meaning" and "we just liked how it sounds", but I'm curious about "MIGHTY", as well as why you chose to stylize the name like that? 
People that are too cool for their own band name. Haha. I started MIGHTY with my best friend David Beck back in 2012. It was us getting back into music together, an we went on a camping trip with an auto harp some guitars and a mandolin to write and brainstorm what we wanted to do with the project (name/sound). A band we dig came out with a badass song called Mighty. After a few frustrating days of coming up with lame names, David was like, "Why don't we just call it Mighty?" I was like, "Really? Nahh." It stuck. I always styled it as "Mighty" until I painted the banner for the album cover. Then it was like yeah, I guess that looks dope.
Dan Gleason was a major part of getting some momentum for the project and pushing you to write, record, etc… correct? How did you and Dan get connected and what influence has he had with how the record has come together? Furthermore, has it been difficult or instead positive that he's based in LA and so the writing/recording came in productive, calculated efforts?
I met Dan when he was playing with All Get Out on the Favorite Gentlemen tour in Ohio. I had mono and limes disease at the same time so I was kind of a spectacle that couldn't be ignored. Some swollen dead looking kid who showed up super early and stayed super late at the show. He later asked me to book a Pittsburgh date for Gasoline Heart and Death On Two Wheels, and we just kept in contact. He ended up stopping at my place to grab a bass before he left the next day for his first shows with Grouplove.
He contacted me around a year later after he heard one of my songs I posted and was heckling me about pushing myself to make music a career again. At that point I was horribly unhealthy and had no motivation to do music, a product of the Atlanta suburbs. He kept texting me everyday and I was finally just like "Dude why don't you just come here and produce this record?" So then I had to start writing again. Him being so far away has probably been for the best. It makes things a little complicated, but I feel like we'd work ourselves to death on this if we lived in the same city, and we'd end up resenting each other or something.. hahaha
The debut EP is titled Bye, Have Nice!, and features Dan, along with Gordon Keiter, who played in All Get Out until recently, as well as CJ from Big Jesus and a few of the other folks in that community, right? Is this your first time playing with a full band and going through all the related motions?
Not at all my first time in the rodeo of full bandedness. I learned how to write through being in a band. I actually hate playing by myself with a burning passion. Probably would not be doing music if I hadn't found a love for working and collaborating with other musicians. There have been 3 different versions of Mighty (the current being #3). The other two (#1 being a 4 piece slick indie band, #2 being an out of control hardcore post pop 3 piece) all had very simple live recording sessions, which I loved.
Since I've only heard the single that you released via PASTE, what are some of the lyrical themes that you explore on the album? Additionally, what's  the history of the songs that made it on the EP?
"Fingertip" was a song I released on the Mother EP, a low-fi home record I made after I ended up being the lone member of MIGHTY. Really didn't want to use it on this EP. Dan talked me into it, and I guess I'm glad he did. Turned out very nicely. There's a lot of self-doubt revolving around the lyrics on this. I lost my mind a little in Atlanta. There's a nice track leading up to the climax called "Losing Things" that's very helpless because of a situation of my life unraveling, but the overall mood in that song is "well, I really don't give a shit because things will be okay." When you get to the climax of the whole idea of the EP it's just a track of me ripping an ex-member (and everyone who has ever pissed me off) a new asshole. Strangely I didn't do that as much as I normally do on this record. This EP was a very confused mess of welded together songs, it's a strange glimpse of me clawing my way to the surface and pulling myself together again to have the confidence that I used to with MIGHTY.
MIGHTY will make it's live, full band debut at Manchester Orchestra's annual festival, The Stuffing, later this month. The event has sold out the last five years and will likely sell out again. That's got to be a really cool feeling to be involved in something that's so special to a lot of people?
It's a great feeling. All of this is. There has been so much doubt from people about my vision and goals for MIGHTY. Seems like a lot of people are having to put their foot in their mouth and backtrack on things they've said lately.
It's been a goal of mine to play at The Stuffing. I love that festival so much. I have been blessed beyond belief.
Later in the year, you guys will be heading out on a short string of shows in the Southeast — what are you looking forward to about getting MIGHTY on the road and (hopefully) in front of a bunch of different audiences?
I've done some small runs with MIGHTY before in the northeast. We rode around in a Subaru Legacy wagon (named The White Weenie) with our gear crammed in and it was the best time of my life. I'm so excited for the upcoming shows and being able to have that feeling again. I'm just excited to play with a band again, even if nobody shows up.
When you're not working on the band, how are you spending your time? Furthermore, next time we're in Atlanta, where should we stop for a good, cheap meal?
I'm a car tech at enterprise rent-a-car in the mornings. Other than that I just try to catch as many NASCAR races on TV as I can. Listen to records, and play a little Xbox (my gamertag is ObliviousBoar69)
I relate to earl with "I don't like shit, I don't go outside." But if you're ever here within now and June hit me up, Kyle and I will make you some great food, and share some beers.
Obviously you're very proud of this record and everything that has gone into it but is there a certain song that resonates uniquely to you and if so, why? 
Ahhhhhhh……. Tough. I'm really excited to get out the last track "Holy Book". It's just something I had to get out of my system. Dan had the frustrating job of calming me down during vocal takes. I was just screaming and saying "fuck" way to much for my own good. God bless Dan for dealing with this project.
It's the year of all things Back to the Future — yes, it's kind of been annoying, but let's say time travel becomes a sudden possibility and you're the lucky guy who gets to try it out. Assuming it's feasible, who would be the three now-disbanded groups that MIGHTY get's to open a world tour (including shows in Antartica, scientists love music also) for?
#1 Led Zeppelin
#2 Lynyrd Skynyrd (Prior to the plane crash)
#3 Pre-breakup Blink 182 [I don't care what anyone thinks about that choice, it would be awesome. Swallow your pride and admit it. (Dan if you're reading this right now, please don't drop me from the label, and sorry I didn't say Nirvana, it almost made #1.)]
Upcoming Tour Dates
11/25 – Atlanta, GA at Center Stage w/Manchester Orchestra
12/18 – Charleston, SC at Royal American w/ T. Hardy Morris
12/20 – Nashville, TN at Foobar
12/26 – Pittsburgh, PA at Mr. Roboto Project w/ The Umbrella Corporation
* Additional December dates announced 11/26. Check out an acoustic version of "Back Porch Gin", an unreleased song, recorded for The Love List in Nashville last month.
MIGHTY – "Back Porch Gin" for The Love List
[vimeo id=144034286]