Staff Column: The Art of the Remix (a mixtape)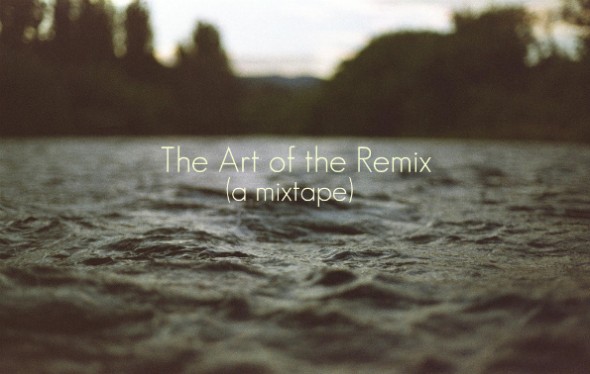 I love a good remix. I hate a bad one. Often a remix ends up just being an extended dance/club version of a song. A great remixer knows how to break a song down and piece it back together into something new and different from the original artist's vision. In my opinion, a truly successful remix is one that is better than the original song.
Have a listen to this collection of some of my favorites. Got any favorite remixes of your own? Share them below in the comments!
Stars – "What I'm Trying To Say"
Part 2 remixed by The Dears on the album Can You Trust your Friends?
http://www.youarestars.com/
Stars aren't a band I find myself listening to all that often, but when I'm in the mood for upbeat pop they are just the ticket. In 2007 they released the album "Do You Trust Your Friends?" on which each track was a remix of an original from their 2005 album "Set Yourself on Fire". Two stand out tracks from that remix album made it to this playlist.


Radiohead – "Skttrbrain"
Remixed by Four Tet
http://www.radiohead.com/deadairspace/
Four Tet has been a favorite electronic artist of mine for a while. He does lots of remixes and it seems that everything he touches turns to gold. Pairing him up with a track off Radiohead's "Hail to the Thief" album was nothing short of brilliant. Only he could pull off making Thom Yorke's Scatterbrain even better.


Boom Bip – "Walk Around Mirror Lake"
Remixed by Boards of Canada
http://www.myspace.com/boombip
Boards of Canada (BoC) have been around for a while and are the best of the best in their genre. I know nothing of the artist Boom Bip and haven't heard the original song but BoC's remix is gorgeous. My wife and I listened to it on repeat in 2004 as we drove through the Rockies – it was the perfect soundtrack. I later used it with a short video I made about that trip.


Bloc Party – "The Pioneers"
Remixed by M83 on the album Silent Alarm Remixed
http://www.myspace.com/blocparty
Like Stars, Bloc Party put out a remix album of their own "Silent Alarm." The remix album is as good (or even better) than the original! One of my favorites is M83's reworking of "The Pioneers" in which they take the original rocking track and seem to elevate it to 20,000 feet and let it float around in the sky.


Beck – "Broken Drum"
Remixed by Boards of Canada for the deluxe edition of the album Guero
http://www.beck.com/
On BoC's remix of this Beck track from Guero, they do as M83 did with "Pioneers" and they slow the song down with no drums or electric guitar. It ends up having a trance-like, slow-motion feel that lowers your heart rate and has you rolling your head around.


Stars – "Sleep Tonight"
Remixed by Junior Boys on the album Do You Trust Your Friends?
http://www.myspace.com/stars
Back to Stars' remix album, this time with the amazing Junior Boys duo working their magic on a track with video game sounding bips and bops.


Ra Ra Riot – "Ghost Under Rock"
Remixed by Passion Pit
http://www.rarariot.com/
This song was my first introduction to both Passion Pit and Ra Ra Riot. I immediately looked up the original song and found it to be very similar to the remix. After that, Ra Ra Riot's 2008 album "Rhumb Line" was in a steady rotation on my iPod.


Beth Orton – "Daybreaker"
Remixed by Four Tet
http://www.bethorton.co.uk/
Beth Orton has been around for a while and makes great music but it tends to all blend together for me. This Four Tet remix of the title track from her 2002 album "Daybreaker" adds some great new layers of textures.


Nathan Fake – "You Are Here"
Remixed by Four Tet
http://www.nathanfake.co.uk/
http://www.myspace.com/fourtetkieranhebden
In 2006, 23 year-old Nathan Fake, a newcomer to the electronic music scene, put out his first full-length album "Drowning in a Sea of Love." On that release was "You Are Here" – a fantastic electronic song. However, it is a little rough around the edges and the static noise he uses in the song can be tough for some folks to swallow. Enter electronica veteran Kieran Hebden (aka Four Tet), who took the track and produced a polished and more accessible remix that I could listen to over and over and over again. 


The Big Pink – "Velvet"
Remixed by Gang Gang Dance
http://www.musicfromthebigpink.com/
When I saw Gang Gang Dance in concert I realized that I like their instrumental/electronic tracks best. This remix is of song by a band I'd never even heard of, but I can tell the original must be just as great as the remix. In typical GGD style, the song is very eclectic jumping from clean vocals to clicks and noise to echoes and drags. Those guys (and gal) are all over the place and it keeps things exciting.


Grizzly Bear – Two Weeks"
Remixed by Fred Falke
http://www.grizzly-bear.net/
Grizzly Bear's album Veckimatest was one of 2009's best. The album's single "Two Weeks" was released with a couple remixes by French producer Fred Falke. I've put the "extended remix" in this collection because it turned me into a soft puddle of goo the first time I heard it. Falke made the right move to keep the focus of the song on the incredible vocals.


"Zombies Walk!!" (Sufjan Stevens vs. Kanye West mashup)
Mixed by Two-Faced John McCartney
http://www.kanyeuniversecity.com/
http://asthmatickitty.com/sufjan-stevens
This last track isn't a "remix" as much as it is a "mashup" which takes two tracks with similar beats and keys and combine them into one seamless song. This mashup takes Kanye West's "Jesus Walks" and blends it with Sufjan Stevens' "They are Night Zombies!!" song. I would have never thought those two could live in such perfect harmony!