The Gateway Initiative Brings You: THE MACON MUSIC COMPETITION
It's folks like those at the Gateway Initiative that keep the local arts in Macon, GA, alive and well. It's obviously no secret that Macon has been the birthplace or hometown to such musicians as The Allman Brothers Band, Randy Crawford, Mark Heard, Lucille Hegamin, Otis Redding, Little Richard, Mike Mills and Bill Berry of R.E.M., as well as more recent names like violinist Robert McDuffie and country artist Jason Aldean. The city, as a whole, is undoubtedly proud of its heritage. But even a place so rich in music history is susceptible to dying out. This is why the folks at the Gateway Initiative and other organizations alike are so important to this community.
We're excited to announce that the Gateway Initiative has their wheels turning behind a project they've created called The Macon Music competition. "Macon is looking for the next generation super star to call its own," said Executive Director, Beth Dunwody.The objective of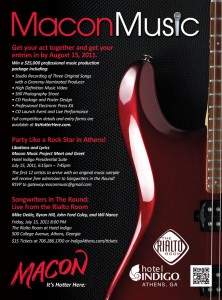 the competition is "to further expose the musical heritage of Macon, promote aspiring musical talent, engage local industry professionals, and to further increase awareness of Macon's unique character and reputation as a regional cultural center of the state. The selected music competition winner will receive goods and services valued in excess of $25,000, which are designed to cover the production costs of creating a first class, mastered, three-song EP (extended play mini album), an electronic press kit (EPK), and a professional music video of one of the three songs."
The selected winner will work with a two time Grammy nominated producer, record in a state of the art recording facility, collaborate with award winning professional design teams, and have a high definition music video produced by an award winning video/film production. All creative partners are based in Macon, Georgia.
Submissions are due by August 15th, and the winner will be notified by August 31, 2011. Artists must be available for recording in Macon in September /October and to perform at a Gala CD release party featuring an exhibition of their music video in November 2011.
To all songwriters, musicians, singers, bands– local or not– you've officially been invited to take a part in this special opportunity. You do not have to be a local Macon artist to participate and win this contest– they're accepting entries from everywhere. So jump on this because who knows when or if you'll ever get such an opportunity again!
FOR MORE INFORMATION, GO HERE: http://www.gatewaymaconmusic.com/rules/