Wakarusa Music Festival 2012: A Retrospective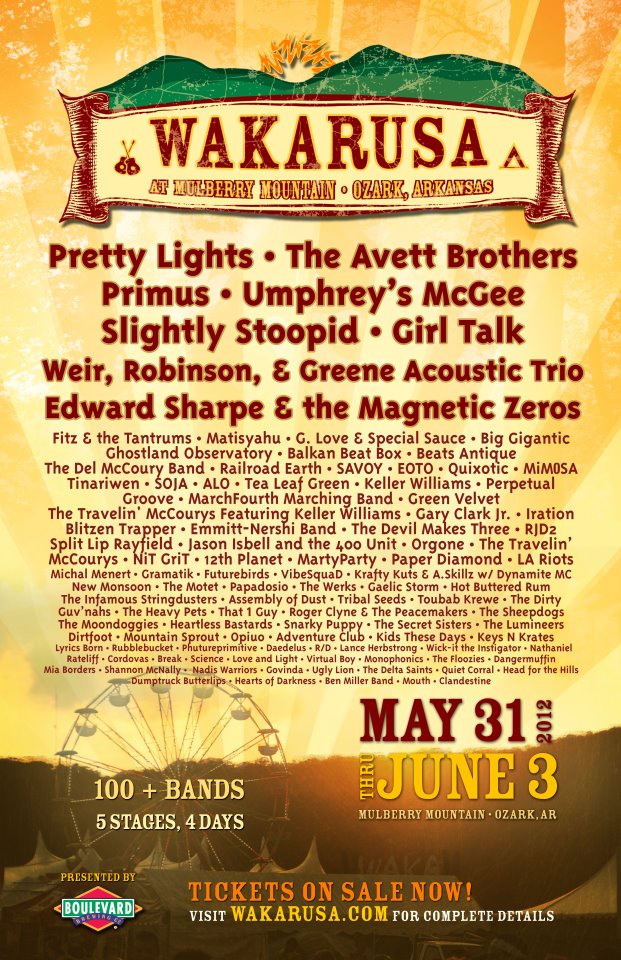 TheBlueIndian.com crew was elated to be a part of the media team covering the recent Wakarusa Festival at Mulberry Mountain in Ozark, Arkansas. While the 14-hour drive wasn't high on our list of reasons to go to Wakarusa, we were all completely won over by the generous and helpful staff and volunteers, a picturesque location, and a weekend of live music that rivals just about any other fest this summer. Now in its 9th year, Wakarusa shows no sign of slowing down. Their unique layout, diverse lineup and nearly endless amenities made for a one-of-a-kind festival experience. We hope to see you there next year for their 10th birthday!
Thursday, May 31st
We arrived at the festival grounds a little after 10:00am after making the drive through the night and were promptly greeted by a group of the most polite festival workers we've met in some time. Wakarusa, like a majority of the larger festivals in the country, employ the Work Exchange Team (W.E.T.) to help out with general festival duties. If you aren't familiar W.E.T. allows patrons to get a free ticket to the festival in exchange for a few hours of their time each day. This is an excellent system for anyone wanting to learn how large events work but also want to enjoy them (for free). We were all eager to catch up on some sleep so after checking in, we went and set up in Media Camping (a huge plus).
Our crew missed a few of the first acts of the day but wound up catching the electro beats of Keys N' Krates to start the day off. There was a significant crowd at the festival already but a steady stream of cars continued rolling in throughout the entire weekend. After watching them for a while, we walked around the festival getting a feel for the crowd and the different areas. Unlike most camping festivals, Wakarusa's campsites are set up in the same general area as the stages. The three main stages are located in a fenced in area directly adjacent to the main camping area, while the other two satellite stages are set up on the outskirts of the event grounds. This gives the festival a much more communal feel and allows easier access to and from the stages. Foot-stomping rockers The 4onthefloor were up next and had the entire crowd kicking up dust and clapping along. Kids These Days, one of the featured acts of Wakarusa that we covered prior to the event, warmed the crowd up for a night that was full of dancing. The highlight of the night had to definitely be our old friends Rubblebucket's set.  Accompanied by the Terror Pigeon Dance Revolt, they had everyone on their feet dancing along with their giant metallic robots and running laps through "The Love Tunnel". These folks have become a staple on the US festival circuit so make sure to catch up with them when you can.
Other highlights of Day One included: Perpetual Groove's cover of LCD Soundsystem's "All My Friends"; sets from Tea Leaf Green & Savoy.
Friday, June 1st
After a long sleep and some great food, we were ready for the day. Georgian's Dank Sinatra started off the day and it couldn't have sounded better. They've been building up a supportive fan base in the South East through festival sets and opening slots for larger acts. Watch out for them. We toured the grounds some more throughout the day, meeting people and sampling food, until we parted ways to catch folk-punks The Devil Makes Three, Tennessee rockers The Delta Saints and Rubblebucket's second and final set of the weekend. The night was just beginning and there were plenty of incredible acts left to perform. Heartless Bastards took the Backwood's Stage only to be followed shortly after on the Revival Stage by Blitzen Trapper, and shortly after that, Edward Sharpe & The Magnetic Zeros on the Main Stage. Alexander and his gang played plenty of cuts from their newest release, Here, but were sure to include staples from their last album such as "Home" and "Janglin'". The Avett Brothers took the Main Stage following Ed Sharpe and played to a packed out crowd. The Brothers were right at home in the mountains of the Ozark and heartily played through crowd favorites, new and old. A break was much needed following their set but we returned shortly after for sets from Ghostland Observatory (incredible as always), Mim0sa (impressive, but there was something off with the sound that couldn't seem to get fixed) and Nobody Beats the Drum.
Day Two Highlights included: Ghostland Observatory's one-of-a-kind laser show; Balkan Beat Box's non-stop dance-a-thon; Girl Talk's raucous and confetti-fueled DJ set.
Saturday, June 2nd
Saturday's lineup was without a doubt the best the weekend had to offer. We headed over to the Backwood's Stage early in the day to catch The Secret Sisters, two girls from Muscle Shoals, Alabama who charmed and wooed the small crowd with original tunes and old country classics. Jason Isbell and the 400 Unit followed shortly after and was eventually joined by the Secret Sisters for his final songs. The pop-rock explosion of Fitz & the Tantrums came next and was only rivaled by the guitar work of Gary Clark Jr. Fitz and the Tantrums have spent the past few years playing shows alongside Flogging Molly, Maroon 5, Dave Matthew's Band and Ben Harper, while Gary Clark Jr. has been on a festival circuit that would make your head spin. Moroccan group Tinariwen (who have received approval from Stephen Colbert, TV on The Radio and many, many more) started the evening off and they were followed by one of the other Athens-based bands at the festival, Futurebirds. The Futurebirds boys were definitely having their fair share of fun as they sank and drank their way through tunes from Hampton's Lullaby, as well as newer tracks. A rest was much needed following their set but we returned later that night for The Sheepdogs, a gritty rock group from Saskatoon, Saskatchewan, who recently made headlines as the first ever unsigned band to grace the cover of Rolling Stone Magazine. The only worthy review I could even think of for these guys was that "the Canadians have taken over rock and roll and we haven't got a chance of getting it back". A little bit of The Band mixed with a few parts of Cream, Allman Brothers, Fleetwood Mac and Rolling Stones could be a potential comparison but these boys definitely can hang on their own. There's no doubt that they'll be in a city near you soon.
Unfortunately, Saturday's sets were cut short by some hazardous (but beautiful) thunder and lightning that wound up being very short lived. It's a tough call for promoters to make but it was definitely the right one to avoid serious injuries or damages. This meant no Beats Antique and no RJD2, who we're highly anticipdated, but the weekend was far from ruined.
Day Three Highlights included: The Sheepdogs foot-stomping set. They played to a few hundred in an enormous tent and rocked like they were in a giant theatre; Big Gigantic's Main Stage set to an enormous crowd; The Del McCoury Band's knee-slapping bluegrass.
Sunday, June 3rd
After such a long night of acts, we were fairly worn out and had to eventually start making our way back to Georgia so we weren't able to catch as many bands as we would have liked. Toubab Krewe was up and Tinariwen took the stage for the second time that weekend and were met with an even warmer reception. It wasn't much longer after their sets that we had to part ways with this wonderful festival, but we'll certainly return next year.
Festival Pro's:
Friendly and helpful staff and volunteers; unique and efficient layout with short lines; excellent food and merchandise options; one-of-a-kind scenery and location; diverse lineup – while there were plenty of sets that didn't really suit us personally, there were plenty more that did and a dozen or more other activities for festival goers to partake in.
Festival Con's:
While the camping is a unique layout, if you value a good night's sleep make sure to bring ear plugs. There is however, satellite camping a few miles away with a shuttle where you can enjoy camping free of all-night music; A beautiful and secluded location like Mulberry Mountain takes some time to get to. Make sure you bring a GPS.
– By: Sean Pritchard. Excerpts By: Collin Holder