Sweetwater 420 Fest: April 19th – 21st: Atlanta, Georgia
Atlanta's Sweetwater Brewing Company is proud to present the return of the 9th annual Sweetwater 420 Fest – taking place in Candler Park from April 19th – 21st. Since its inception, the festival has been dedicated to improving the Candler Park community, drawing awareness to local & global environmental issues, and providing a weekend of excellent live music, award-winning craft beer, and free fun in the sun. For the first year ever, VIP tickets are available and based on the perks, they're well worth it!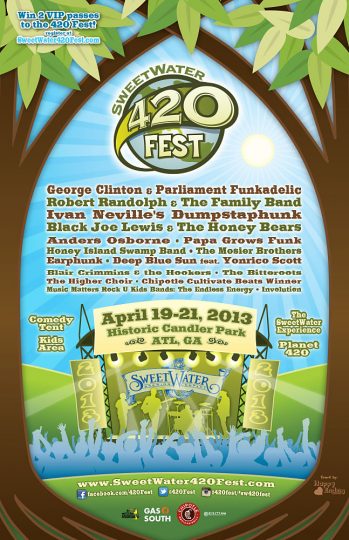 Co-sponsored by Gas South, Take Marta, and Creative Loafing, the 2013 lineup includes a headlining appearance legends George Clinton & Parliament Funkadelic, and co-headlining sets from Robert Randolph & the Family Band and Ivan Neville's Dumpstaphunk. Also joining in the ruckus will be Black Joe Lewis & the Honey Bears, Anders Osborne (who was a favorite of ours at Deluna Fest last year), The Mosier Brothers, and a number of other key players in the Southeastern jam & bluegrass community.
The festival features a unique area dubbed "The Sweetwater Experience" where fans will be able to taste their way through more than 20 unique styles of beers, all from the brewers at SweetWater. The brewery will have all of our year-round offerings, plus the freshest Catch and Release seasonal brew; but here's where it gets fun! SBC is digging deep in their cellar, and creating a plethora of new beauties that will only be available in this tent at the 420 Festival. Experimental IPA's, barrel-aged stouts, Dank Tanks galore, a bevy of cask ale offerings – all tapped and together within The SweetWater Experience.
Plus, they'll be slinging knowledge alongside the great beers, as they invite their brewers, partners, and industry friends to be a part of the experience and lend their insight on stage. Throughout the weekend guests will have the opportunity to sit in on free sessions featuring a variety of topics to learn so much more about craft beer, beyond what is in their glasses. Share in stories and dig deep on topics such as starting a brewery, what's the business side of selling beer looks like, how best to pair beer with food, home brewing, and so much more.
[youtube id=RTT-pxOUF08]