Exclusive Video Preview: The Stuffing 2012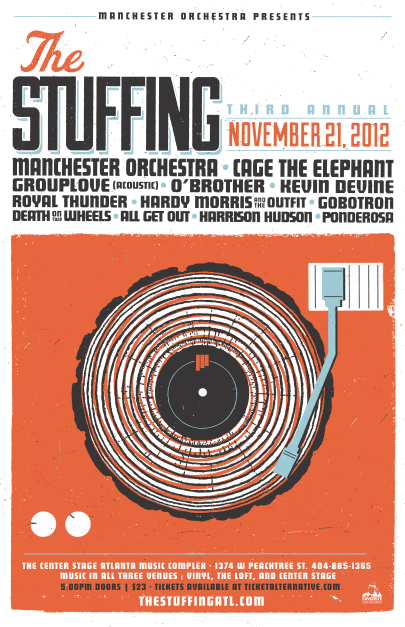 Most of you know what big fans and supporters we are of Atlanta-based record label Favorite Gentlemen and their roster of bands. There isn't a band currently on their label that we haven't booked in Macon, driven places  to see, or featured in someway or another. Favorite Gentlemen remains one of the most active labels in Georgia, with artists in Tennessee, New York, and South Carolina. In 2010, the guys in Manchester Orchestra, who happen to have started the label, decided it was time to have a big showcase event, that it would fall the night before Thanksgiving, and would be appropriately named "The Stuffing". We've been heavily involved with covering the previous years and have no plans of slowing down for 2012. That's why we're pleased to offer you an exclusive preview video for The Stuffing 2012 featuring an original song from Harrison Hudson. The video is comprised of footage from the 2011 event and was filmed and edited by Bobby McCollough with Dynes Media, a partner of TheBlueIndian.com in Macon.
The Stuffing 2012 is scheduled for Wednesday, November 21st at the Center Stage Complex in Atlanta, Georgia. The lineup includes: Manchester Orchestra, Cage the Elephant, Royal Thunder, O'Brother, Kevin Devine, Hardy Morris & the Outfit, All Get Out, Death On Two Wheels, Ponderosa and special guests! Tickets are now on-sale and can be purchased here.