Courtesy Drop – "Songs to Drive to; Cry, and Make Love to"
"Songs To Drive To; Cry, And Make Love To serves as an awesome reminder of what the scene started out as and where it should be going." – Peterson Worrell
Peterson Worrell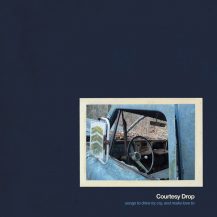 8.5
out of

10
Courtesy Drop
Songs to Drive to; Cry, and Make Love to
October 15th, 2013
Animal Style Records
From Sunny Day Real Estate's 90's era alt-rock, to Jawbreaker's punk roots, emo has spread its influence across several genres of music. While more of a thematic motif than anything stylistically concrete that binds bands together, emo's influence has certainly ebbed and waned over the years, but there've always been a few bands that hold fast to the idea that it's alright to wear your heart on your sleeve, especially when it's bleeding. After their 2011 debut album, What Makes This Place Worth Calling Our Home, Nashville, TN post-hardcore outfit Courtesy Drop are ready to release their sophomore album, Songs To Drive To; Cry, And Make Love To after two years of defining their style.
One thing is for certain on Courtesy Drop's newest album. From the opening track, the band establishes an overwhelming sense of frustration that resonates throughout the entire album. Frustration with one's self, with others, relationships, and life in general. In this aspect, Songs To Drive To; Cry, And Make Love To sticks very close to the format of Courtesy Drop's debut album. Lines like "They say that distance makes the heart grow fonder, but what happens when you grow fond of the distance itself?" on "Goodbye, Fairlane Drive" make this fact very clear. Where the album really excels is in the progression the band has made stylistically since What Makes This Place Worth Calling Our Home. Several of the tracks on Songs To Drive To; Cry, And Make Love To stick close to the bands post-hardcore roots as shown by "Science Is A Liar Sometimes" which is laden with a heavier guitar riffs and more traditional hardcore vocals punctuated with the occasional melodic break. Conversely, the band also shows their evolution since their debut with tracks like "Dormant Dreams" and "Stranger Than Friction" which distance themselves from the traditional hardcore yelling style of vocals fans of Courtesy Drop may be used to and instead showcase a cleaner, more restrained style of vocals which provides a more intense emotional experience overall. One of the albums standout tracks, "Fork in the Road", serves as especially good examples of this with its haunting use of male/female duet vocals. Courtesy Drop also ventures out of their comfort zone with tracks like the acoustic "Truck Jamz, Vol. 1" and the instrumental track "Head, Shoulders, Knees, and toe." to further display how far they've come in two years.
Overall, Songs To Drive To; Cry, And Make Love To has a little bit of everything and should appeal to just about anyone who's willing to sit down with the record and give it a listen all the way through. The key element of this album is that just about every novel element that Courtesy Drop experiments with on the album comes across as well done due to the earnest passion that they convey. For fans of old school, traditional emo, Songs To Drive To; Cry, And Make Love To, serves as an awesome reminder of what the scene started out as and where it should be going. Courtesy Drop doesn't have a tour going on as of now, but to all of you lucky kids heading down to Fest 12 in Gainesville, FL, make sure to make them a part of schedule of bands to check out.
– October 18th, 2013 – Peterson Worrell
Courtesy Drop – "A Toast to the Valiant Phil Coulson" Live
[youtube id=3syF2uqh4BI]