Various Artists – "Esperanza: Songs From Jack Kerouac's Tristessa"
Step into the lengthening shadows and embrace the hope and sadness that is "Esperanza: Songs From Jack Kerouac's Tristessa."
Cameron Barham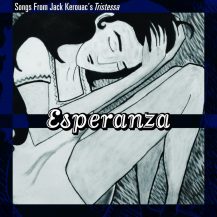 9
out of

10
Various Artists
Esperanza: Songs From Jack Kerouac's Tristessa.
September 17th, 2013
Reimagine Music
Literature and music have long enjoyed a mutually beneficial communion but none as enduring and consistently translated as the writings of Jack Kerouac adapted to song. Esparanza: Songs From Jack Kerouac's Tristessa is a near-perfect marriage of the two. My lone disappointment with the project is that William Fitzsimmons, Lee Renaldo, and Tony Dekker were relegated to a reading roles instead of having them grace the album with their interpretation of some aspect of the story. The 13 songs and 3 readings come from and serve as the accompanying soundtrack for Kerouc's dark yet somehow hopeful novella, Tristessa, which details in poetic staccato Jack's descent into the broken soul of Mexico City where he meets the raven-haired beauty Tristessa who is a complex amalgamation of the shifting shadows of heroin addiction and prostitution.
Jim Sampas, the album's producer, brought together an amazing lineup to bring Tristessa into stark musical relief. Each song was based either on the text or the ethos of the story creating a number of unique pieces that bind together into a Gestalt whole that is worthy of being engaged in one sitting (or night time drive). The contributing artists include William Fitzsimmons, Tim and Adam, Gregory Alan Isakov, Peter Bradley Adams, Alela Diane, Wintersleep, Marissa Nadler, Joshua James, Lee Ranaldo of Sonic Youth, Will Dailey, Hey Rosetta!, Willy Mason, Neal McCarthy with Barbara Kessler, Matt Costa, the Low Anthem, and Tony Dekker of the Great Lake Swimmers with Hanne Hukkelberg.
I was struck by how this collection of artists and subsequent songs so perfectly captured the mood of hope and sadness in the story.  It is difficult not to write extensively about each track given the depth and crafting of the lyrics and music in each, however, I will try to keep my enthusiasm manageable so as not to take too much away from your experience with the work. In "Billie Holiday Eyes", Tim and Adam capture the allure of Tristessa and the pulsing longing in Jack's core to fall headlong into the pools of black. Gregory Alan Isakov's "O City Lights" gorgeously admits to a lack of control over a brilliant orchestration of instruments that makes the ache palpable: "O city lights, flyin' at this speed, O heaven knows, it ain't me behind the wheel this time." On "She Has to Come Down", Peter Bradley Adams makes Kris Kristofferson and/or Townes Van Zandt proud with the combination of haunting pedal steel, gently caressing backing vocals, and Adams' description of Tristessa: "I set eye to a lady, who wanders alone in the crowd, with drunkards and dreamers, and lovers and dealers and clowns, some kind of angel with that far away look in her eyes, no sign of danger, cause she knows where to go get high."  Kerouac's fascination with (or fear of?) death is grandly explored on Alela Diane's "We Are Nothing" and Wintersleep's "Father Time". Tristessa is addressed in the soaring "Tristessa's Song" by Marissa Nadler, "Tristessa" in dark barritone hues by Willy Mason, and "Esperanza" by Joshua James tenderly in Spanish and by Neal  McCarthy with Barbara Kessler with a rawer texture in English with both providing necessary perspectives.
Hey Rosetta!'s "Sad Animals" grows like a pending storm that never fully arrives as Tim Baker sings: "Sad animals, can you find me my heart, stretch it over us, cover us up, I know it's beat and broken, I know it's out of luck, I know it can't even keep the rain out, but I can fill it with love, yeah I can fill it with love." The influence of Tom Waits (particularly Mule Variations and everything after) emerges from the swinging "Broke My Calm" by Will Dailey featuring reverb-laden harmonica and Matt Costa's "Shadows of Autumn" replete with what sounds like a chorus of tortured souls and other old time instruments.  Twilight softly comes with the Low Anthem's "Numbers in Nirvana", a vesper of sorts detailing Jack's baptism into Tristessa's dark waters of addiction in a failed attempt to commune with her at some level.  The album closes with the final page of Kerouac's Tristessa as read by the Great Lake Swimmers' Tony Dekker over Hanne Hukkelberg's timidly played piano which contains an intriguing stream of thought and challenge: "Oh movie, a movie by God, showing us Him, Him, and us showing Him, Him which is us, for how can there be two, not one, Palm Sunday me that Bishop San Jose…This part is my part of the movie; let me hear yours."
This is the soundtrack to that part of the movie. Step into the lengthening shadows and embrace the hope and sadness that is Esperanza: Songs From Jack Kerouac's Tristessa.
October 11th, 2013 – Cameron Barham