March 2015 "Band of the Month" – ELEL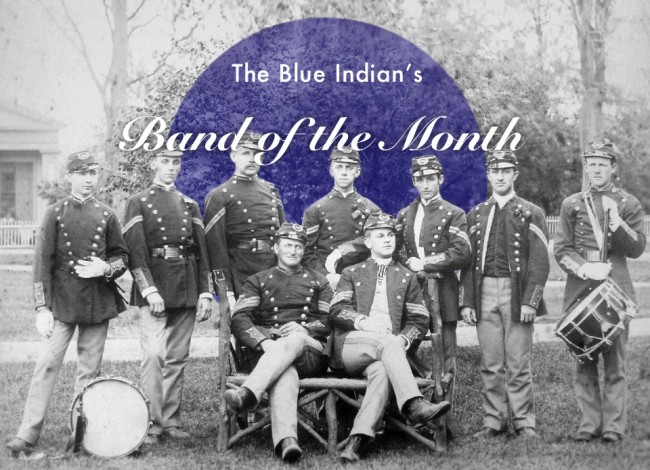 Started in January of 2012, the "Band of the Month" feature has allowed The Blue Indian a unique opportunity to share some of our favorite bands with our readers. As we move into our fourth year of the feature, we're eager to continue showcasing some of the best and brightest bands around. Thanks for the continued support!
Nashville 8-piece ELEL had a big summer. Their debut track " 40 Watt", an effervescent blast of feel good indie pop, drew comparisons to the likes of Vampire Weekend and MGMT, winning over a slew of blogs and affording them the opportunity to perform at Bonnaroo Festival.  The band are set to release their debut album 'Geode' in 2015 on Mom + Pop Music.
ELEL, consisting of two horns, two drums, three keys, guitar, bass and whole lot of vocals, was born from frontman Ben Elkins meeting a girl named Eliska. Ben's now wife softened his edges while introducing him to the likes of Beach House and Toro Y Moi. Speaking on ELEL, Ben says, "It's the outcome of me producing music that risks leaving space and communicates emotion easily and softly." This band represents a new start for its members, for a variety of reasons. Tied together by the bustling Nashville music scene but from an array of locations, ELEL includes Ben (Arkansas), Zach (Kentucky), Tim (Mississippi), Jo Jo (Queens, NY), Alex (Pennsylvania), and life-long Nashvillians (so far) Frederick, Jerry and Stefan. According to Ben, "'40 Watt' is a big loud dance song about dancing with one other person in a little bitty house."
Facebook | Twitter | Website | Instagram
The Blue Indian: I'm most curious about how the members of an eight piece band came to meet each other..That kind of schedule coordination must have been a nightmare at first.. Did you all get to know one another from college or other bands?
Ben Elkins (all answers): There's a lot of layers in ELEL songs, so there were two options for the live show- background tracks or lots of instruments. I wanted us to be able to ebb and flow with the songs depending on the night and the audience, so the background tracks option was off the table. It's definitely a challenge keeping us all on the same schedule, and I wouldn't bother, but it's just so worth it when we're all together on stage or off. I just love this crew.
What was the big first milestone in growing ELEL from scratch recordings and demos into what it is now?
It's actually been more of a steady climb. We haven't had a breakthrough moment really, we've just been playing a lot in Nashville to get the live show humming. When I started ELEL I decided that, though nobody knows about or cares about ELEL yet, and might not for a long time, I'd never doubt what we are doing. Eventually doors will open. So from the beginning we've stayed really energetic trying to get better and push the band forward recording and live. That said, I'd say the biggest turning point was when Pigeons and Planes premiered "40 Watt". That's when people outside of Nashville started taking notice.
With eight members, what's the process for writing and demoing new songs? Are you putting a complete song together and taking it to the band for feedback or do the seven of you work every track from top to bottom?
I send fairly complete versions of the new songs to the rest of the band. I like to spend a really long time arranging a new song. First I think about it for weeks and maybe months. Then I finally start laying it down with fake midi instruments. I love the song, then I hate it, then eventually I come to love it again. It's a very tedious process, but eventually it starts to feel really solid. At that point I take it to the band and they make it feel good with their live-performance elements and subtleties. Now that we've been together for a while now though, some of them are starting to be more involved in the initial production process which I'm excited about.
The debut, self-titled EP is out Tuesday, March 3rd! A huge congratulations to you and the band, as well as everyone that worked to get the record out. I'm sure you all are incredibly proud. What was the recording process like and who did you work with on the album?
Thanks! Yeah we're very excited to have more than just one song out! A lot of the EP was recorded on my laptop. I do a lot of layering and texture work just with headphones, sampling etc. But we recorded drums at Electric Thunder Studio in Nashville with the help of producer Patrick Tetreault who lives in Portland. The songs were completed very slowly, over a period of probably 2 years.
You're currently in the middle of an East Coast tour to promote the release of the EP.. Aside from mountains of snow in the Northeast, how have things been going?
This tour has been going great. It's our first time to any of these cities, so any crowd that comes out, well it's the first time we've met, so it's very exciting. It's kinda like ELEL has been online dating an audience, but hasn't made the leap to meet in person yet. The first meetups have gone well so we can't wait to meet again!
I was made aware of the band by Kayne Lanahan with Savannah Stopover after she insisted I check out "40 Watt", the single from the EP (I loved it). Will your March 5th Stopover performance be your first time in Savannah and what are you looking forward to about the festival? (ELEL plays Thursday, March 5th at 12:00am at Wild Wings Cafe)
Cool! And thanks Kayne for spreading around our tunes! This will be ELEL's first time in Savannah although some of us have been there on other trips and love it there. I'm mostly looking forward to Zach's DJ set. He's always introducing us to lesser known music from all over the world. He's good at playing the right song for the moment too. I just can't wait. Also, there's some of our favorite Nashville bands playing that we're excited about – Fly Golden Eagle, Blank Range, Music Band, All Them Witches. Nashville's got such great bands!
We played with Young Buffalo in Chicago too and they're awesome. And of course our current tour-mates, Avers, we're excited about their set. They rock.
The hometown EP release show will be taking place at The Stone Fox on Saturday, March 14th. What can you tell me about Jo'shua Odine, who is opening the night? What should the audience expect for such a celebration? Birthday cake? Sparklers?
We love the Stone Fox. Very excited about our release show there. Jo'shua is a solo reggae artist. His music is 100% full up with soul, meaning he really feels it which compels everybody else in the room to really feel it too. He's a wonderful performer, and a special talent in Nashville. There's a friend of ours who's making these glowing geode things that we're gonna use to decorate. It should be a feel-good night all around.
After the EP release, you guys are getting right back to business with a tour out to Austin for SXSW, then through the Midwest and down the West coast.. Are a lot of these shows in towns you've played before or is most everything uncharted territory as a band?
The upcoming west coast stops are all new to us as well. I feel like our music sounds more western/west coast-ish so I'm really looking forward to seeing and meeting people out there. It's a very long drive from Nashville, and we're gonna pass through a some amazing American lands, so we're gonna soak it all in.
Whats the very best advice that you've been given the past year?
I have a magnet on my fridge that my mom gave me. It's a Winston Churchill quote, "Never Never Never Give Up." It's the third never, it always hits me like a ton of bricks and keeps me going.
ELEL Upcoming Southeast Tour Dates (View Full Schedule)
3.6 – Tin Roof – Charleston, SC
3.7 – Music Room – Atlanta, GA
3.8 – JJ's Bohemia – Chattanooga, TN
3.14 – The Stone Fox – Nashville, TN *EP RELEASE*
ELEL – "40 Watt" Official Video
[youtube id=8lx711FflWw]