February 2014 "Band of the Month" – GOOD GRAEFF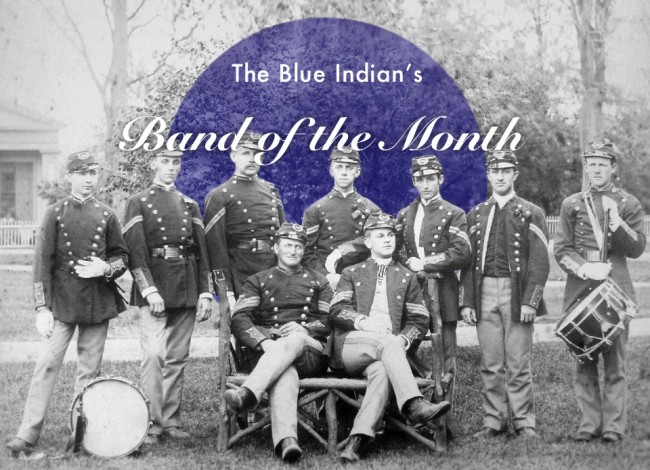 Our "Band of the Month" feature began in January 2012, featuring Savannah-based trio CUSSES in a short interview that gave readers a glimpse of what to expect from one of Georgia's hardest working bands. We then landed an interview with Of Monsters and Men right before they broke and would then go on to include acts like Ponderosa, Cheap Girls, Swear and Shake, Jonny Fritz, Torres, The Districts, and more over the next two years. 
So as we move forward into 2014, our entire staff would like to extend thanks to the artists who have taken the time to speak with us and the readers who have been so dedicated to supporting the site.
Good Graeff is an indie pop folk duo consisting of twins Brooke (guitar and vocals) and Brittany (cello). The band first started playing in 2004 when the twins were 16. They heard a local Battle of the Bands was giving away a first place cash prize, and being broke teenagers, thought why not give it a go. To everyone's surprise, including their own, they won, thus the beginning of Good Graeff.
The two split when they graduated high school. Brooke fled to Canada where she became a foley artist and later a sound editor, and Brittany attended University of Central Florida in Orlando. It wasn't until 2012 when they found themselves living in the same place, Vietnam, for the first time in six years. 
After receiving an overwhelming positive response to their music in Vietnam, with the encouragement of their friends and family, they decided to drop everything and return to America to fully dedicate themselves to their music.  Upon their arrival, they planned and executed a successful Kickstarter campaign, recorded and released their first EP "Better Half," and organized a 3 month tour. 
At the end of 2013 after playing over 200 shows, Good Graeff landed a booking deal with Madison House Inc. What a year, amirite?! What's on their agenda for 2014? B+B plan to keep the forward momentum going with the release of their second EP "Good Job Go" due out later this year, and are playing rad festivals like Gasparilla and SXSW. -via GoodGraeff.com
Let's start at the beginning; What's your earliest memory of playing music, whether together or on your own?
Brit: I fondly remember playing a wax paper comb. But other than that, probably when I was five years old playing piano.
Brooke: I remember going into my brothers room and turning all the tuning pegs on his guitar so they were all straight, does that count?
How did the two of you come to meet up in Vietnam of all places? Considering one of you stayed in Florida and the other moved to Canada?
Brit: I was doing a world travel and ran out of money in Thailand, and people said Hanoi, Vietnam was a really fantastic place to go. So I went there, and loved it so much I called Brooke to come out. To my surprise she pretty much dropped everything and booked a ticket out there. She was only planning to stay for a few weeks and ended up staying for a few months.
Were you actually playing shows together in Vietnam or more so…"reviving" Good Graeff and writing and practicing?
Brooke: A whole lot of both! We started by playing songs we had written while apart for six years. We weren't planning on playing any shows, music is such an important part of our relationship, we can't help but play when we are around each other. I got a $30 classical guitar and put normal strings on it, Brit got the ONLY cello she could find and we just started playing at our house. Our neighbors had heard us, and invited us to play at a party they threw…next thing you know we were asked to be a part of a local booking agency and playing every weekend. It sounds like quite a leap, but that's really what happened!
From the live shows I've seen, you all make it obvious you're firm believers in "twin powers"… What are a few of the moments you shared where twin powers prevailed?
Brooke: We were at a bar the other night playing a game of darts and won. Rendered the other teams skills useless.
Brit: It's hard to recognize these moments when you're in it… You would really have to ask our friends or see if first hand. More or less, I think our ability to work together is pretty twin magical (Yes I know how cheesy that sounds).
What was the first show like? Do you have any photos from it you'd care to share?
Brit: Our first show was a battle of the bands at hour high school in 2004. There isn't much to look at because they're super dark and far away. I think there is a VHS kicking around, too. Which, come to think of it, we should probably burn.
2013 was a big year for Good Graeff… maybe the biggest yet? With the help of fans, you raised more than $10,000.00 on your Kickstarter project, you signed with Madison House Agency for booking, and you played at a number of nationally recognized festivals. Karma for nine+ years of hard work and good attitudes or right place, right time?
Brooke: The nine years didn't hurt, but a lot was right place right time. That being said we work on our band non-stop, but it doesn't feel like work. People who know us, would argue hard work got us where we are, but I feel too lucky that all this happened.
Brit: Right place, right time, but only because we were both at a point in our lives where we could just focus on Good Graeff.
Are there plans to head to SXSW this year? I noticed you'll be playing Savannah Stopover the weekend of Mar 6th-8th..
Brit: We are playing Savannah Stopover…And we are going to SXSW, but thats all I can say. We have some really exciting things lined up that we will be announcing soon.
You'll be playing in Athens, GA on Feb 17th with The Districts at Green Room, which should be an exciting show. What have your previous experiences in Athens been like?
Brit: Yeah! This should be a really fun show at the Green Room. Our past experience would consist of a lovely farmers market with more adorable kids than any other market we have played (and we played a lot of markets).
Brooke: I'm excited to see the extremely generous people at White Tiger Gourmet who made our last visit very memorable and delicious.
Who else should we be listening to from Florida? 
Brooke: hahaha–Well, there are LOADS of really talented bands from Florida. We feel really fortunate to be from here. I'll limit us to listing five bands that are our fav to listen to // play with from cities we call home:
Hail Dale – Sarasota
Sons of Hippies – Tampa
The Plush Monsters – Orlando
Roadkill Ghost Choir – DeLand (coincidentally, TBI's "Band of the Month" for February 2013)
Rational Anthem – Sarasota
Brit: I want to add – these bands aren't just awesome onstage, but some seriously good people off stage.
And of course… what's next on the Good Graeff agenda?
Brit: Some things on the Good Graeff agenda, besides go to the gym more and eat more veggies because it's 2014 include:
Gasparilla, Middle of the Map, Savannah Stopover, WhigFest, Antimesaries, and some others we aren't allowed to announce yet so make sure to stay tuned!
Brooke: We also have a new EP "Good Job Go" we are looking to release this year that we are really pumped on.
Good Graeff – "Hold Me Fast"
[youtube id=ehRVSKqvg_g]