Q&A with Molly Parden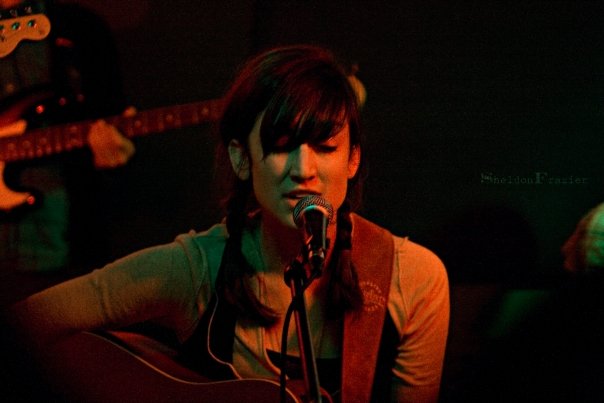 If you haven't heard of Molly Parden, it's because she "just got started, shortly after [she] met Rova Zetella in 2007," according to Ms. Parden. Still, it's pretty unbelievable that some of us are just now discovering Parden's music. Two years should have been plenty enough time to stumble upon this caliber of talent. She does it all– writes, sings, and plays. Girl's got skills on the guitar.
The typical audience these days seems to excuse a young female singer/songwriter if she's sloppy on the guitar just as long as she can either sing or look beautiful attempting to do so. It seems rare these days that you see a young woman only 2 years into their career doing all of the above. Only exception here is that she's not sloppy on the guitar. In fact, she's more graceful with the thing than most singer/songwriters I see on stage all across Georgia. She's got mad instincts musically and knows a thing or two about writing catchy lyrics.
My wife says she can see this girl gaining a substantial amount of popularity soon and I'm having a hard time disagreeing. So before she completely takes off into the unavoidable indie stardom, I was grateful to have the chance to chat it up with her. We talk about her near-daily encounters with MLB star outfielder, Mike Cameron, the real story behind her song, "Anna Katheryn's Happy Song," gigs with Besides Daniel in 2010, and Rova Zetella co-frontman, Jordan McGhin's impact on her young career.
Blue Indian: Well, this has certainly been a long time comin'. I think I became a fan when my wife and I snuck in at the last minute when you opened for Rova Zetella in Macon at The 567 not too long ago.
Molly Parden: And I was an impromptu addition to the bill that night, how 'bout that! Thanks for your fanship.
BI: I remember thinking, "Who in the heck is this girl? And why haven't I heard of her already?" You've got a good thing going. Do you write all of your songs alone?
MP: I do, I write the lyrics and music. You haven't heard of me before because I pretty much just got started, shortly after I met Rova Zetella in 2007.
BI: So, I do my homework. How is it serving coffee at Starbucks? What's your favorite part about that gig?
MP: Starbucks works for me because I have pretty flexible hours. Waking up at the crack of dawn sucks some days, but it has definitely turned me into a morning person. Free coffee helps. I can make a pretty ballin' cappuccino (our version of it, anyway). And I see Mike Cameron almost everyday, he lives in a neighborhood across the way. Thought you'd enjoy that, Luke.
BI: Who has been your biggest inspiration throughout your very young career as a singer/songwriter?
MP: Oh, inspiration. What a beautiful thing! I really cannot compose a song without some little thought weaseling itself into my brain and rooting itself in the soil of my soul, traveling with me for days or weeks at a time. I have tried (and will continue to try) to discipline myself to write every day or as much as possible until something awesome comes out. But when it comes down to it, my best songs have come out of some glorious epiphany or burst of light, a finger snap. Heck, a gingersnap. Jordan McGhin was a huge inspiration, the subject of many a tune o'mine.
BI: So, I'm doing some promotional/booking work for Besides Daniel in 2010. I have an idea. How about you play a string of shows with Besides Daniel? Come on, what do you say?
MP: How about I'll give you my firstborn if you can make that happen? Yes, please!
BI: Your song, "Lord Have Mercy" seems to express some deep emotion on your part. What was going on when you wrote you this song?
MP: I was frustrated with me, Molly, and one day I highlighted things about me that were wrong and dreadful and tried to rationalize on paper why I act like I do. It's my subconscious condition; wanting to be noticed and seen, wanting someone to tell me the best decisions to make in life so I don't mess up. It's selfish, it's not very mature but that's what I felt like. At the end of the song I kind of defend myself by pleading with the listener that I do try to be patient, I intend to do honorable things, and perhaps someday I will indeed be good.
BI: You also have this little, lo-fi gem called "Symphony" that reminds me of Andrew Bird. You a fan of him?
MP: I'm really not a huge fan of his. I think he's incredible at what he does, (juggling a violin and a flaming baton while playing a penny whistle and singing a Mary Poppins tune) but I took more of an interest in Owen Pallett (formerly Final Fantasy). I saw Pallett recently at the Variety Playhouse in Atlanta and it. Was. Phenomenal. I left the venue laughing because it made me so happy.
BI: Do you still get butterflies before you go on stage? If so, how do you deal with it?
MP: I do, indeed. I usually remedy that by staring at people's feet or just that one spot on the floor directly in front of me. A nervous voice helps me sing with more vibrato. I like it though, because it shows me that I care if other people approve of my music or not. Does that make sense? If I'm not nervous about something, I'm probably accustomed to it to the point that it's nearly trite and it's not a big deal to me. I don't want that to happen to my music.
BI: If I told you that I would send you a copy of Noah and The Whale's new record, "The First Days of Spring," would you listen to it all the way through? I'm gonna try to make you a fan.
MP: Absolutely! I don't have enough in my music library as it is.
BI: What advice do you have for young, female singer/songwriters?
MP: Immerse yourself in things that make y
ou feel. And if you're bad, either ask for help/guidance from someone you admire, or just stop.
Just kidding.
Kind of.
BI: "Anna Katheryn's Happy Song" is one of my favorites because of 3 reasons: 1) Anna Katherine is the name of my newest niece. 2) You mention the Braves in the song. 3) It has the perfect duration– not too long or short. Just spot on. Is Anna Katheryn a best girlfriend or something?
MP: The song was originally "Leah's Happy Song", I wrote it for my best friend at the time Leah Herring because she was having a really bad day. She never really said much to me about it after I played it for her once or twice, so I was under the impression that she didn't care for it. Slightly hurt, I would play it every so often just to make myself cry/smile until one day, AK's mum asked me to pen a song in honour of AK's birthday. She is actually my sister Hannah's best friend, but I like her alright. With that said, I changed a few words (all of them, actually) and gave her the best birthday present she could have asked for. Her words, not mine.
BI: Other than staying in touch with The Blue Indian and hopefully playing some shows withBesides Daniel, what do you have planned for the year 2010?
MP: In the last week of March, I'll be doing 4 shows with Peter Bradley Adams in DC, WV, VA, and MD singing backup for him. I'm particularly excited about that, and I'm really hoping that it will be a good foot in the door. Also, once the Mother Sun wraps her arms around us again, I'll be heading up Music Under the Stars, a monthly show at the Starbucks I work at in Stockbridge. It's an excuse to play my music and hear other people's music that I like. So in a nutshell, local shows, traveling and if I don't come up with an EP by year's end I am going to throw myself out of a window. And by that, I mean keep working towards it.
BI: Okay before we wrap it up, give The Blue Indian readers some exclusive news from the Molly Parden camp. Make us excited.
MP: I have 2 new songs with 2 different personalities that are about to redefine my sound, recording to commence soon!
BI: Molly, it's been a pleasure. I hope this is the beginning of a solid relationship with The Blue Indian. Looking forward to following you in the future.
Follow Molly Parden's Twitter.