Interview with: Dan Smith of Listener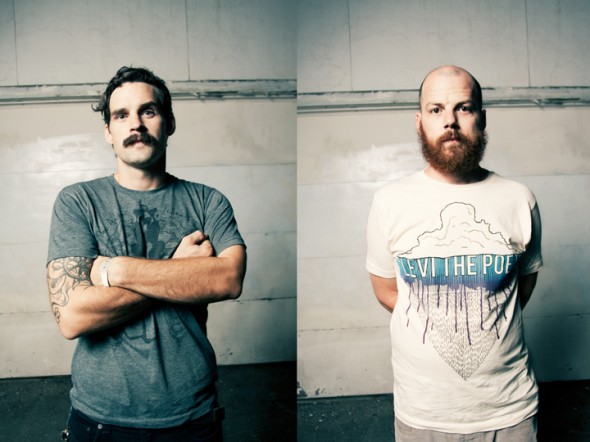 Listener's Dan Smith recently took the time to chat with us about his growingly popular musical/spoken word endeavor. Listener has been touring the world over; capturing minds and pleasing ears wherever they go. You can catch Listener at The Masquerade in Atlanta on December 17.
-Photo by Luca Venter
TBI: First off, you label yourself as "talk music." For our readers who may have never heard your music before, how would you describe it to them?
DS: Basically it's poetry and words and rock music. … that's about it. We have called it Talk Music in the past just to call it something, and sometimes we still do depending on the person we're trying to explain it to.
TBI: How did Listener come to be?
DS: Well, Listener as it is today came to be out of a bunch of touring and making music with Chris Nelson and myself. I used to always call my solo project Listener, and we just kept it.
TBI: As a more lyrically based act, your lyrics are incredibly intricate. What inspires your writing?
DS: As far as the words go I just sort of let everything inspire me….or not let it on purpose but be inspired by the life that I get to lead, and the life that's around me. I think of it as a gift and I get to see and experience all kinds of life, and I try to write about how those things make me feel and the observations I have about what I see. I just try and do that.
TBI: You've played many places in both America and Europe. What is your favorite place to perform?
DS: That is just a tough one altogether. I really like France. We played in a few cities in France this year for the first time, but every show is so unique and inside of my heart and the people and places, and I couldn't really decide one or the other. Everyone is special in their own way and so are the cities and shows…big or small or awkward or crazy. I like it all and everything in between.
TBI: The song "You Were A House On Fire" from 2010's "Wooden Heart" has really stuck with me, both musically and lyrically. Could you explain for our readers the meaning behind this song?
DS: Thanks, it's about the idea of people who always think it will be better to go somewhere else or be with someone else or that always the grass is greener on the other side…..and sometimes you have to get away, but I just have known some people who are always leaving (myself included, and I find I leave a lot, especially traveling as much as I do), but I'm not retreating, and well….it's sort of about that.
TBI: What can we expect from Listener in the days to come? Is there a new album in the works?
DS: Yeah, we're writing new music in our minds and hearts and computers and what not. Chris is making a studio and I'm doing one last tour with The Chariot before we take a longer break and make new music and a new album and such. That's the next thing, sort of taking a time off the road to have new experiences and live some life and write and etc.
TBI: Where can our readers get their hands on your music?
DS: A good place to start would be our website. It's open 24 hours a day http://www.iamlistener.com
TBI: Thanks Dan!
DS: Thanks a million.
Listener – "Wooden Heart"
[youtube id=K8k9rD7lx9c showinfo=0]
Jordan Welsh; November 8, 2011