MidPoint Music Festival 2012: A Retrospective
We were thrilled to make our first visit to MidPoint Music Festival in Cincinnati last month to be a part of their 11th year. Over 120 bands played on 16 stages throughout the weekend, with headlining sets from Dinosaur JR, Andrew Bird, Grizzly Bear and more. Thanks to everyone involved with the festival and we can't wait to come back.
By taking one look at the lineup for the recent MidPoint Music Festival, you could easily tell it was one worth making the drive for. You've got 100+ bands in the heart of downtown Cincinnati, a city that rarely sleeps and when it does, it's angry when you wake it up at 6:30am wanting to go to Bob Evans because you need something to soak up the Bourbon Barrel Ale that you drank the night before. Will and I had our Cincinnati festival introduction earlier this year when we drove up to cover the inaugural Bunbury Music Festival, but MidPoint turned out to be an entirely different beast/creature/machine/festival…
On the drive up, Will and I discussed what we were going to have to do in order to see every single band that was playing and quickly came to the conclusion that we didn't think most of the venues would allow us in if we were wearing rollerblades and so this was technically impossible. I started reading out bands I wanted to see and we begin making our tentative schedule. It should be noted that we started listening to the radio and heard a song by Atlanta-rapper 2-chainz that made us completely lose any faith we had in rap music, and that if Kanye West continues to put his name on songs like "Birthday Song", bad things might start happening.
Moving on. For those of you who aren't well acquainted with MPMF, the festival has become one of the most sought after showcases in the country, and it showed as they celebrated their 11th year. MidPoint 2012 was held the last weekend in September and bands were featured at thirteen venues throughout the Over-the-Rhine district and on three outdoor stages, one of which was conveniently open to the general public. The festival is put on by the same group that curated Bunbury, as well as the city's popular Fountain Square summer series, and has featured dozens of bands that have graced the covers of Rolling Stone, Spin, NME etc. Just think of it as sixteen mini-parties that make up the best three nights your boring life has ever been a part of. I love camping, I love the outdoors, but there's far more to be said for a festival that has such an immense degree of variety, so few seventeen year olds walking around asking for molly, and the convenience of not having to listen to "the dubstep party in the woods that we should totally be at" rage on until 6:00am. My point is that the typical MidPoint-er that was met was polite, open-minded, and engaged and supportive of what was going on in their city, and that the festival reflects that mentality. Aside from the girl that kept poking me in the butt for dancing at Stepdad, everyone was pretty cool. If that was you, you should be ashamed of yourself because your attempt to ruin my good time was shabby and ineffective, and it's Stepdad; there's plenty of room for you to cross your arms and lament about beer prices or how "you weren't feeling what Andrew Bird was doing" elsewhere, but not in the front row.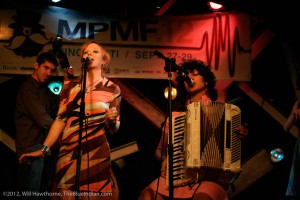 We arrived in Cincinnati at about 6:00am on the first day of the festival and managed to get a few hours of sleep at our friend's house before heading to a place near the Northside Tavern called Melt to eat lunch. They had excellent sandwiches, highlighted with curry ketchup, and very relaxing aesthetic. Lunch was followed by a visit to Shake It Records, one of the coolest and best stocked record stores Will or I had ever been to. Highly suggest stopping in to anyone that has the chance to.
After spending most of the day relaxing with the two people we know there, we made our way down to the Washington Park stage to catch the second half of one of my favorite local bands, Pomegranates. We've covered them a good bit for the site and their new record, Heaven, is phenomenal. Nice people make nice music. They'll actually be in Macon on November 10th, so those of you around the state watch out for that. Pomegranates was followed by a quick trip over to see Chattanooga's Machines Are People Too before heading back to Washington Park to watch Andrew Bird.
Seeing as it was my first time catching him live, I was eager to see how his records transfer over to the real thing, but I'll have to say that it wasn't exactly what I was expecting. That's not to say it was upsetting, as I doubt very few people have ever left one of his sets feeling upset, but it was almost too perfect. He and his band played an incredible set though, highlighting crowd favorites from past records while also throwing in a mix of newer tunes from his upcoming record, Hands of Glory. One of the most interesting aspects of his live show is the prominent feature of his unique Leslie organ (or at least that's what I think it was). The cabinet towered over his set, with two giant horns whirling throughout their time on stage. It made for quite an impressive sight.
We followed Andrew Bird by making our way around the festival area, stopping in for a few moments at different places. Some tough choices had to be made, but we eventually decided on catching Hospitality and Best Coast, who put on one of the best shows of the weekend. Bethany Cosentino had won over the hearts of everyone in the audience by the time she finished their first song and the dreamy pop set an appropriate tone for what would become the rest of our first night.
Best Coast was followed by a brief stroll though the downtown before heading to the Know Theatre for Athens, Ohio's The Ridges, and then on to the Below Zero Lounge to see the final few songs from Rich Aucoin, who was on tour with Terror Pigeon Dance Revolt, who played before him, and Stepdad, who was headlining the stage. Aucoin's shows are raucous, sweaty, and overflowing with neon, combining live projections with beeps and blurps that had the entire audience shaking off their day. Oddly enough, one of the projections was his cell phone number and an encouragement to send him a text. Will decided to have at it and probably an hour later received a response of "Thanks for coming to the show, Will. I hope you enjoyed yourself". That's some serious dedication to your audience. Stepdad fed off of the energy that Aucoin and TPDR stirred up and worked their way through songs from their debut LP, Wildlife Pop. I've personally been a huge fan of the band since one of our writers, Grafton, opened for them in Athens, but seeing them play to a packed room was incredible. I would encourage you to get a copy of their album, spend your entire day watching videos of them online, and then make it out to a show. Not because I love the band, but because they evoke the same attitude that Dan Deacon does, in that it's not just okay to let loose, but that it makes everything better. At least until some girl spends their entire set poking you and telling you to stop moving. It was her loss, not mine.
We spent the rest of the night hopping from venue to venue and trying to blend in with the Reds fans at a few bars, to no avail, and taking pictures with anyone that would join us.
Day two was packed with bands we wanted to see and choices were going to have to be made. Will and I settled in at a local eatery called Taste of Belgium and spent most of the early evening talking with the staff about the city, their thoughts on the festival, and who they were seeing once they got off the clock. Everyone seemed to be excited about all the good the festival has done in the past and didn't seem to mind that extra business either. Definitely make Taste of Belgium a go-to if you're in the area. They've got Delirium Tremens on tap and they've got chicken and waffles, and to make it even better, they were a sponsor of the festival so at any given time, we weren't far from a good waffle. They weren't Ron & Gladis good, but they know what they're doing. We followed that up with an amazing set from Grizzly Bear at Washington Park. The park was nearly entirely full, and the band seemed ecstatic to be there, joking and talking with the audience in between songs.
We split up following their set with the intention of meeting up at Dinosaur JR, however the only downside of the weekend came when we found out that the outside area where J. Mascis and his crew were at had reached capacity and they weren't allowing anyone else in. Will managed to make it inside and snap a few photos, while I caught parts of Cheyenne Marie Mize at the Emery Theatre and local act (and previous TBI compilation feature) The Kickaways. We met back up at MOTR, what become our hangout for the weekend, to see White Arrows close out the night. TBI was introduced to the band sometime last year and we loved their debut EP, so finally seeing them live was a treat. They're actually finishing up a long tour with a string of dates on the West coast, so if you're out there go see them.
They didn't really want to talk much after their set, which was a disappointment, so we made our way over to catch the tail end of The Kingston Springs, an act out of Nashville that's been on the road with our friends The Weeks. They have a new album that came out last week that's well worth giving a few spins and they're doing plenty the rest of the year.
We started our last day at the festival off right with a giant steak dinner at a local Outback. It really set the mood for the day. Will and I decided to stop into the Know Theatre to grab a few drinks and wound up meeting a bartender there who was actually from Macon and graduated a few years behind Will, so we spent a while there trying to see what mutual friends we had and catching him up to speed on the city. 8:30pm rolled around and the first band took the stage while we were still talking, but they immediately had our attention. It took us a few songs to get a name out of them, but it was well worth it. Lead by singer Shanna Delany, Bethesda hails from the Akron area but has spent most of the year touring the country. Back in June, they were featured at Bonnaroo and since then things have been on the rise. The band quickly charmed the crowd that was trickling in and quickly accumulated a responsive group in the front, ready to chime in on melodies and hand claps. Check them out and see for yourself.
A short stint at The Walkmens' set followed, but we were more interested in seeing a few other smaller acts so we made our way to MOTR to see Swear and Shake, a four-piece from New York that had played an outdoor stage earlier in the day. Again, it was another fantastic set from a band with captivating personality. It wasn't that they had the most unique sound that sold them to the crowd, but that they had great talent and a presence that invited the audience to be a part of what was going on.
A short walk to one of the outdoor stages allowed us to catch the end of Imperial Teen's set, which was met with great response, before taking a break to regroup, grab a drink and a bite to eat and prepare for Dirty Bourbon River Show, who we both felt was the best bet to close out the festival. Having seen them last year at a small venue in Macon, we had an idea of what to expect but upon getting to the venue we were met by a packed house. Will and I decided to post up at the back of the room to get the best view of their set and it was worth it. The audience loved the New Orleans flair the band had and it seemed fitting for the night. Everyone was celebrating the success of yet another festival, being with friends, and listening to great music all weekend.
All in all, MidPoint was worth the time we spent packed in Will's car. The curators select a wide variety of genres from locales all around the world, and the festival has helped the Cincinnati downtown flourish. Aside from the few shows we couldn't get into and being harassed by a few bums, we couldn't have had a better time. Thanks to everyone involved and we'll see you next year!