"Way Down Yonder on the Chattahoochee Pt. 2″ – A Preview of the Counter.Point Music Festival (9/27 – 9/29)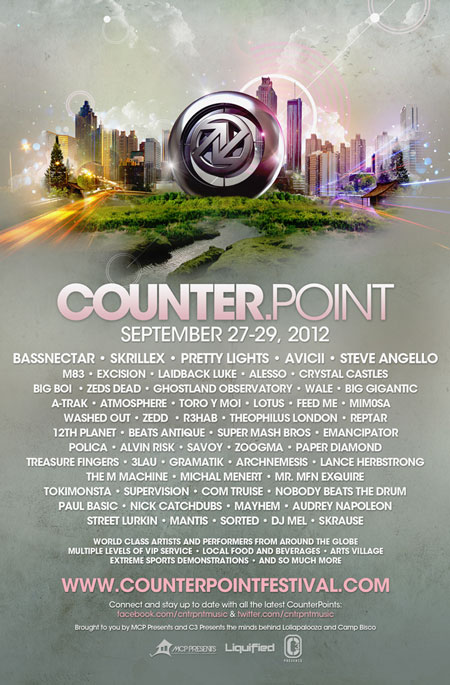 If you didn't catch our newest writer's expectations for the upcoming, inaugural Counter.Point Music Festival, make sure to read all of Rhett's high hopes HERE. We're thrilled to have him on board and I couldn't think of a better person to be covering this event. Make sure to pick up your tickets for Counter.Point 2012 if you haven't, as they'll be sold-old before long!
COUNTER.POINT FESTIVAL AT A GLANCE
 PROS: 
Heavy hitting lineup with dozens of diverse, relevant acts.
Spacious setting with comfy camping spots for all.
Promise of true local food and beer as opposed to the usual festival fair.
Ease of access to and from Atlanta, airport, or hotel.
Lots of talented local acts given love on the lineup.
Area devoted to the sale, display, and creation of local art.
Extreme sports displays sponsored by FUSE: "Hey y'all, watch this!"
SILENT DISCO
CONS
Lack of prominent 'anchor' traditional bands. I was really hoping for an STS9, or JB and Friends, Leftover Salmon, Govt. Mule, Umphrey's Mcgee, etc.
Lineup will most assuredly attract a younger crowd (18+ limit)
Concerns of sets overlapping, also know as 'First World Festival Problems'
KNOW BEFORE YOU GO
Camping is $15 per person, NOT per vehicle
NO glass beer or beverage bottles, pets, or professional cameras allowed.
Small propane camp stoves/grills are allowed, NO charcoal
DO BRING more water than you think you'll need, a camera, sunscreen, bug spray, a rain jacket, common sense, and a good attitude.
Shuttle service is available in Athens and Atlanta to and from the venue, check website for details.
Volunteering through WET is available, check site for details.
 "I never knew how much that muddy water meant to me"
             I've been a long time follower of Big Gigantic. Where can you go wrong with a classically trained saxophonist turned Ableton wizard who's backed by some of the most exceptional live drumming out there? Go download their album, Nocturnal, (biggigantic.net) for free, or check out tunes such as "High Life" or "Upswing". Yep, I'll be as close as I can get for this one.
Beats Antique has been elusive for me, as I have yet to catch them live. I'll be reveling in their earthy, world drum percussion lines and gypsy vibes for sure. I hear they put on an excellent live show, dancers and all.
Alvin Risk is a recent addition to Skrillex's OWSLA label, and is the mastermind behind some of those aforementioned top secret tunes that have been circulating among the heavy hitters in the dubstep scene. I will most certainly be lending an ear to his performance, though maybe in a more critical sense. However, I may get swept up in the tornado of electro infused debauchery he seems to put out there.
There are some acts residing at the bottom of the lineup that truly deserve more acclaim and attention at this fest. Listen close, these are my super-secret do not miss sets, along with a few others I'm sure you've heard of.
First off, Cousin Dan (ATL); maybe you were lucky enough to catch him at Roasted in downtown Macon, for free, but if not, just know this: He is an all American showcase of glitter, glam, leotards and codpieces. He's one of the most entertaining one person acts I have ever seen and I can't do him justice here, please go look him up. Also, he has one of those Peter Frampton voice synth thingys and a handmade, touch and sound sensitive light up dance floor. Yeah.
Mayhem; One word describes the man in both his studio and live performance capacities. Anthony Rotella has been working in the world of EDM for nearly two decades, or longer than the median age of attendance for this fest. I'm pretty sure he's had a hand in nearly every EDM show that's been thrown in ATL since forever. His quality of production in drum and bass, dubstep, and trap is unparalleled in the South East, and he's worked with names such as KRS-1, Noisia, 12th Planet, Andy C, Evol Intent, and Dieselboy, and fellow ATLiens Heroes x Villains and Trench. This guy knows more artists on a first name basis than Justin Bieber. Where he really shines is his DJ sets. Reckless abandon meets seamless transitions. In addition to his main set, he will be making an appearance at the Silent Disco as his alter-ego RRRump!. Seriously, DO NOT miss these sets.
Gramatik is my favorite artist on the Pretty Lights Music label. His grooves sample classic hip hop, soul, and funk, which are perfect for this decidedly Southern festival. You can grab all of his music for free over at prettylightsmusic.net. Michal Menert also deserves a nod. Most people don't realize that he co-produced most of Pretty Lights' earliest tunes. Yeah, you know, the best ones. A Polish transplant, he samples lots of European vinyl and constructs some incredible audio landscapes that are simply spellbinding. He's a really nice guy too, and I've caught him roaming the crowds in between sets at many of his shows, so he's easily approached.
Big Boi. Need I say more? I saw him perform with Big Gigantic and STS9 a few years back, and man, what a party! Expect to hear all of those classic Outkast tunes you thought you'd never catch live. Atlanta at its finest.
If you want to keep a finger on the pulse of where the ATL 'glam grunge' EDM scene is headed, check out HeroesXVillains. Daniel Disaster, the lead in the two man duo, has spent years working as an engineer at Grand Hustle, yeah, that Grand Hustle, and packs a lot of attitude into a small package. He holds residencies across the country, and as a result has access to anything cutting edge or on the bubble. His straightforward approach and outward vendetta against anything shiny and 'pop', has made him a respected taste maker in the underground Atlanta scene. If it's murdered out, trapped out, swagged out, or incites gyrations that would make your grandmother rush for her rosary, he's going to play it.
I could go on and on about this stacked lineup, but I'll leave that for artist showcases as we get closer.
Being that this venue is so large and river front, camping should be comfortable with shade abundant. September temperatures hover in the high 70's low 80's, so it will be just sweaty enough.  I plan on stringing a hammock or two. The only hang up is that camping costs are $15 per person, not vehicle like most fests.
One aspect of Counterpoint that I'm excited to explore is the promised array of local food and brew. I've heard tell that the famous food trucks will be there. I'm stoked. If it comes out of a window in a little paper tray, I'm all for it. I'm assuming Sweetwater will be the shoe in brewery with their recent expansion, but I'm hoping others will be present as well.
No festival is complete without art, and that will not be in short supply here. There will be an entire area devoted to display, sale, and creation of art by locals. I love this sort of thing as it makes for an awesome get away from the hectic neon hurricane that the main stages will be constantly consumed in.
Speaking of escapes, there will be a cinema of sorts that will be showing college football during the day (count me out), and psychedelic visuals at night (count me in).
"We got a little crazy, but we never got caught"
In light of recent festivals (Google "Gnarnia" for reference) safety and the ability to remain discrete in your partying are key. As you plan your experience, keep things in perspective, and watch out for yourself and others. There's a lot of great ways to have a good time at events like this, but over indulgence and indiscretion can put a stop to that real quick. No one likes jail, or getting kicked out, or that guy throwing glow sticks at everyone while slinging his backpack around and wearing his dad's golf visor from 1982. Don't be that guy. Party safe. Party hard. Party smart, and we'll all learn a lot about livin' and a little bout love.
Stay up-to-date on all things Counter.Point at TheBlueIndian.com. Rhett will be posting additional featured artist profiles, exclusives, and more as the festival draws nearer!
 Toro Y Moi – "Still Sound"
[youtube id=0Gqh4e1S6j0]