"Way Down Yonder on the Chattahoochee Pt. 1" – A Preview of the Counter.Point Music Festival (9/27 – 9/29)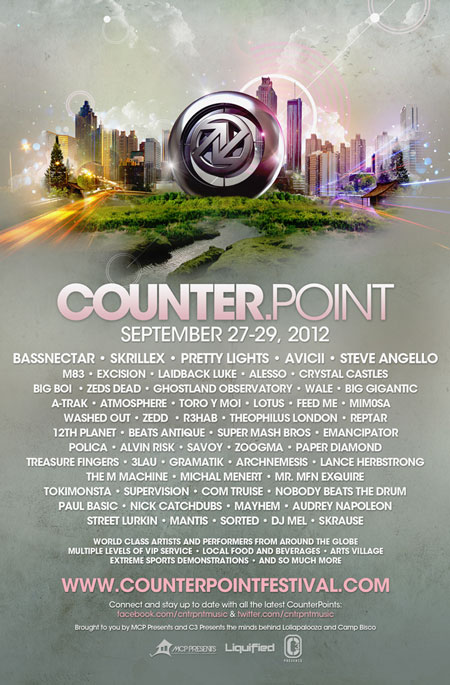 The inaugural Counter.Point Music Festival is set to debut outside of Atlanta, Georgia at the end of September. A product of MCP Presents & C3 Presents, Counter.Point features a mix of the top electronic producers and bands from around the world, a premium VIP service, and a plethora of things to do should you find yourself bored with the music (doubtful). Rhett Shirley, a new writer to the site, took some time to give you a full preview of the festival, complete with do's, don'ts, tips, and tricks for having an amazing experience. Be on the look out for more Counter.Point previews coming from us and mark your calendars for Sept 27th – 29th. Between Music Midtown and this, Atlanta is going to have two very busy back-to-back weekends!
COUNTER.POINT FESTIVAL AT A GLANCE
 PROS: 

Heavy hitting lineup with dozens of diverse, relevant acts.
Spacious setting with comfy camping spots for all.
Promise of true local food and beer as opposed to the usual festival fair.
Ease of access to and from Atlanta, airport, or hotel.
Lots of talented local acts given love on the lineup.
Area devoted to the sale, display, and creation of local art.
Extreme sports displays sponsored by FUSE: "Hey y'all, watch this!"
SILENT DISCO
CONS
Lack of prominent 'anchor' traditional bands. I was really hoping for an STS9, or JB and Friends, Leftover Salmon, Govt. Mule, Umphrey's Mcgee, etc.
Lineup will most assuredly attract a younger crowd (18+ limit)
Concerns of sets overlapping, also know as 'First World Festival Problems'
KNOW BEFORE YOU GO
Camping is $15 per person, NOT per vehicle
NO glass beer or beverage bottles, pets, or professional cameras allowed.
Small propane camp stoves/grills are allowed, NO charcoal
DO BRING more water than you think you'll need, a camera, sunscreen, bug spray, a rain jacket, common sense, and a good attitude.
Shuttle service is available in Athens and Atlanta to and from the venue, check website for details.
Volunteering through WET is available, check site for details.
"Way down yonder on the Chattahoochee, it gets hotter than a hoochie coochie"
            Without a doubt, 2012 has been the year of the Music Festival. At least that's what the calendar I got from the Chinese joint by Kroger tells me. But in all seriousness, it seems like just a few years ago the only festivals I, or most people for that matter, had heard of were Bonnaroo, or the disastrous reincarnation of Woodstock. Don't get me wrong, beautiful gatherings of likeminded artists have always been there, but never before have they been planted so firmly in the spotlight of pop culture. The indiscriminate pelvises of social media, big name marketers, and burgeoning 'underground scenes' have thrust relatively new and experimental genres and their pioneers to the forefront of the music world, and it seems people just can't get their fill. By the end of 2010 or so, people were resigning to the fact that electronic dance music (EDM), most certainly dubstep, was a passing fad; a passe, unintelligent mish-mash of discordant 'beats', tones, and samples. However, the 'haters' have accomplished quite the opposite.
Producers, DJ's, and listeners alike have been driven in recent years to pursue new, radical sounds in order to stay 'hip', or in some cases, out of the mainstream spotlight. Within the past few years we have seen the birth of genres such as moombahton, dirty electro, glitch hop, 'purple' music, trap music, drumstep, and many other mid tempo 'sub genres'. We've also seen the resurgence and strengthening of roots style, deep dubstep, drum and bass, and all forms of house. If you're already lost, I'll provide a glossary at our conclusion.
Whether you're for or against EDM, it certainly rocks the party these days, and for many people, pays the bills. That being said, Atlanta is taking the reins of its multifaceted underground music scene and attempting to wrangle it into one event, stuffing all of its energy into a secluded, 8000 acre venue along the meandering Chattahoochee River. Right.
Counterpoint really does have something for everyone, unless you're a jam band aficionado. Let's go ahead and get that out of the way. The only thing this festival lacks is a strong live band presence, in the traditional sense. Sure, there will be many groups where multiple artists are on stage collaborating, but don't expect any Dead covers, or blues riffs that haven't been sampled, then crafted into something else entirely. If this is going to bum you out, or otherwise 'harsh your vibe', please, wait for Wanee or Blackwater to get your festy on.
However, there will be some great groups you can get your 'band fix' with. Expect lots of high energy synth and sample driven jam sessions to be put forth by Lotus, Ghostland Observatory, and Conspirator (featuring members of the Disco Biscuits). Ghostland has a huge Georgia following, as do the Disco Biscuits, so expect these sets to be absolutely slammed. Be forewarned that Conspirator's grooves can get a little 'housey' at times, and therefore monotonous. This really is going to depend on what drummer they bring. I saw them with KJ Sawka of Pendulum and it was one of the best exhibitions of drumming I have ever seen. Ever.
Counter.Point producers made sure to keep the "less traditional" EDM fest-goers in mind when they were putting the lineup together, so if bass drops and wobbles aren't for you, you won't have to go far to find a decent dance party. Georgia boy-wonder Washed Out is set to make an appearance, as is his fellow chill-wave pioneer, Toro Y Moi, and you can expect one of the highest energy sets of the weekend to come from our friends right up the road in Athens, Reptar. Those boys have spent the past year touring with everyone from Foster the People to Grouplove to Rubblebucket and it's paid off immensely. A West-Coast highlight to check out would be Gardens & Villa, a group from Santa Barbara, that have been carving out a space for themselves through their prominent use of the flute in their songs (among other things, one of those being the quality of their live show, another being their incredible debut album).
Most people either love or abhor the headlining acts. I've been on both sides of the fence with all of them. For consistency of performance quality, overall vibe, and effects/production, I side with Bassnectar. The guy is such a genuinely good person, check out some of his posts at bassnectar.net, and his energy is contagious. Expect a raucous, bass driven, dance fiasco laden with reggae rhythms, dubstep, and drum and bass. He's even been known to incorporate classic hip hop and rock into his sets. He's a one man musical revolution. The depth and precision of some of his more mellow tracks ("When I Grow Up", "Underwater") are just plain haunting and really speak to his breadth of production ability.
Pretty Lights. Many consider him to be the modern master of the mash up, with his diverse selection of samples and genre grinding production. However, I simply have this to say: "Meh." It's not that I don't enjoy his music. It's not that his label hasn't produced some pretty incredible artists recently. But the crowd that follows him has become too neon and too young for me. I guess that means his music is approachable. I wouldn't necessarily skip his sets, but I will surely be planted near a beer tent and not in the front row. I'd rather check out the other artists from his label that will be there (Michal Menert / Paper Diamond / Gramatik) more intently. Undoubtedly, there will be some heavy duty stage production ensuring that his sets are visual masterpieces. Head over to prettylightsmusic.net to check out everything he's ever released, for free, and make your own call on this one.
This is where I become hypocritical. I will one hundred percent, no doubt, be catching every second of Skrillex's set. Anyone who knows me will think this is out of character, but after seeing the light and effect rigs he's toured with this year, I expect the energy of his set to literally shake Atlanta to its grimy, sweaty core. If you haven't looked up his set from Ultra on YouTube, do it. Do not pass go, do not collect $200. Straight to YouTube. Anything involving spaceships, lasers, and levitating DJ booths makes me swoon like a prom date drinking Boone's Farm, so count me in. The DJ in me is really anticipating some of his remixes and collaborative tracks that have been locked up tighter than a constipated goose that refuses to lay the Golden Egg, most notably his tunes with Alvin Risk. Lay, dammit!
The house and electro scenes will be strongly bolstered by Avicii, Laidback Luke, Zedd, A-Trak, Steve Angello, and most notably Porter Robinson. That's just favoritism coming through there, but seriously, his track "Language" is one of the most beautifully arranged tunes I've heard all summer. I'm sure these acts will be great, just not my bag. I will be attending a few of them though.
Headliners and all that are great, but for me the eclectic sleeper acts are what really convinces me to open my wallet, and then hit up Coin Star, for festy-funds. Counter.Point is going to be unlike anything Atlanta has experienced before, so do yourself a favor and drop the money to get a ticket.
 Gardens & Villa – "Black Hills"
[youtube id=FcNUFOlynPI]
Look out for Part 2 of Rhett's Counter.Point Preview, coming out next week!