Arthur Alligood's "I Have Not Seen The Wind"
"Enter Arthur Alligood: a preacher disguised as a folk singer." -C.E. Breslin
C.E. Breslin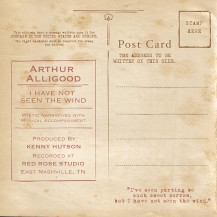 8.4
out of

10
Arthur Alligood
I Have Not Seen The Wind
March 15, 2011
Unsigned
Who has seen the wind?
Neither I nor you:
But when the leaves hang trembling,
The wind is passing through.
Who has seen the wind?
Neither you nor I:
But when the trees bow down their heads,
The wind is passing by.
–Christina Rossetti (1830-1894)
I know nobody wants to be preached at. I know no one wants to be made aware of where they've come up short. Where they could do better. Where their vision is blurry, their faith shaky, their knowledge incomplete. Where they took what wasn't theirs or thought better or worse than was the case. But maybe our best friends are those that know how to preach to us without coming off as self-righteous. They tell us the kind of truth that make us want to be the kind of person that believes it. Maybe the most intimate conversations are just really good sermons. Maybe confessing your own crap is the best homeletical move: vulnerability over fire and/or brimstone. And maybe good sermons can be better poems. Maybe they can even be woven into an album of great songs.
Enter Arthur Alligood: a preacher disguised as a folk singer. At the get-go, Alligood hums the sparse tune "Show Some Heart," pleading earnestly with the listener to let down some walls, unlock some doors, and follow some of those suppressed dreams. He might as well have written this tune with a busted guitar over late-night drinks with Bill Mallonee.
He hauls the next several songs over Wallflowers dirt roads, all chugging percussion and whining steel. Just as I Have Not Seen the Wind starts really moving with Nashvillian adroitness, Alligood crashes with the confessional "Piece Me Together." And in so doing, he empties any pretention that he knows exactly where he's going.
Alligood re-mounts his whistle-stop soapbox on "Gavel": the sweetest, most Townes Van Zandt-ian polemic against hypocrisy and shallow judgmentalism I've ever heard. Instead of harping on the sodden now, or looking for a clean-slated future, he asks us to remember the past when we "were better as a criminal begging for a second chance."
The title track, for me, actually surpasses Alligood's own humbly-opinioned tune for best-written song on the album. Alligood grafts an image from the Bible into an allusive and illustrative prayer. The small, humble situatedness that Alligood shares with Christiana Rossetti and sings like Josh Ritter is a powerful centerpiece, a saw dust altar call, of sorts, to the type of meekness that shall inherit the earth.