Fictionist's "Lasting Echo"
Lasting Echo is Fictionist's follow up to their debut album, Invisible Hand.  In this venture, the sextet based out of Salt Lake City has created sonically driven music that has the ability to transform your morning commute into a journey of pure ecstasy. The thoughtful layering of instrumentation, both aggressive and inviting, melds with the vocals, creating 11 […]
Beth Yeckley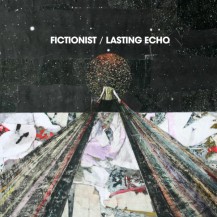 8
out of

10

Lasting Echo
March 2, 2009

Lasting Echo is Fictionist's follow up to their debut album, Invisible Hand.  In this venture, the sextet based out of Salt Lake City has created sonically driven music that has the ability to transform your morning commute into a journey of pure ecstasy. The thoughtful layering of instrumentation, both aggressive and inviting, melds with the vocals, creating 11 songs that rise to the rafters and could cause doves to swoon… or just as easily cause them to flutter away in the wake of a guitar riff.
The album can best be described as a showcasing event, where every instrument can have its glory day.  The arrangement in each song allows for every band member to contribute a fundamental piece of music, especially in the realm of guitars (Fictionist has three of them).  In songs like "The Well-Made Shadow" and "Time to Time," the strings are a powerful mix of Incubus and Queens of the Stone Age.  Yet in "Suffering Angel" the guitar solo could play distant cousin to the "Hotel California" intro.  Regardless, the effect is the same across the boards—a stylized and pseudo-psychedelic journey ensues while listening to this music.
It's difficult to place lead singer Stuart Maxfield's lyrical capabilities into a consistent group of vocalists.  One moment, his voice is smooth and dark, a touch soulful—the balancing weight against the sandpaper rub of guitar chords in the background.  The next, he has changed the entire aesthetic of the song, rivaling the instrumentation.
Lyrically, there are a handful of songs on the album that are relatable in the realm of relationships and affinity.  There is solid, visual story-telling in "The Well-Made Shadow" and an interesting take on simple human existence in the song "Fire Don't Set You Free," which sings  "So hold your head between your knees.  Think no evil thought and don't you do no evil deed.  Every man is just a man, so you can trust him while you can."
"Strangers in the Dark" is totally an ethereal experience, vocally.  It's also probably one of my favorite tracks off this album because it is an amalgam of everything good: subtle percussion mounted with eerie keys, bass that can stand its ground and guitars that are equal parts dirty and crisp, with a little lean towards classic rock.  Here, as in songs like "Sunshine of a Shell," Maxfield unfurls his melodic vocals into a tone that is freakishly reminiscent of Chris Cornell.
It has to be said that Lasting Echo is a radio-ready album, which can be both good and bad.  If you're looking for music that is challenging and obscure, this is not for you.  But if you are ok with just enjoying music, rather than having to figure it out, then you'll benefit from the talented, infectious rhythm and hooks created by the band.  One full play through and you will have this album on repeat for days.