April 2012 "Band of the Month" – YOUNG BENJAMIN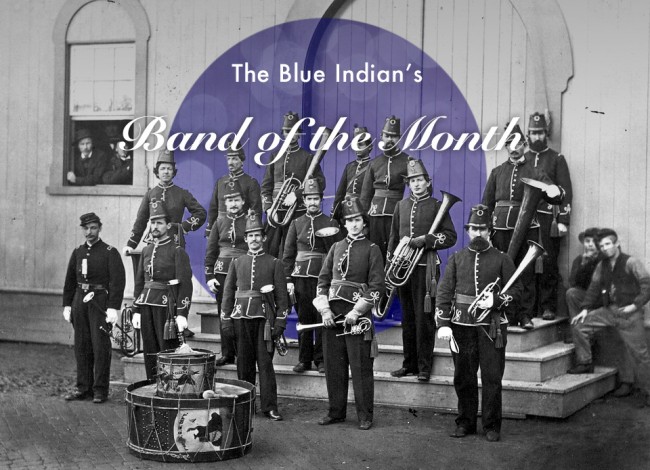 It's a new year and with that means changes. Resolutions. Weight loss. Cutting cigarettes. Eating veggies. We figured we would put all that aside and focus on something a bit more important. Starting this year, we will be featuring one band per month that we want to introduce you to so that you can mix things up on your playlists. These artists will be coming from all around the country, not just the South East. Check them out. Download them. Enjoy. And yes, this is a bit late and we're sorry for that. But we still wanted to share with you.
TBI's Band of the Month: YOUNG BENJAMIN
Young Benjamin comes to us from right up the road in Athens, Georgia. The moniker that Matt Whitaker performs under comes from a nickname he was given by his grandfather during his last months alive. The elaborate and beautiful songscapes that Whitaker has been producing have been catching the attention of fans all around the South East. Young Benjamin recently was featured at the Savannah Stopover Festival in Savannah, Georgia and will be making his debut in Macon on April 14th for Mercer University's Bearstock 2012 Festival. We caught up with Matt to discuss his previous musical ventures, his progression as an artist and his upcoming full-length album.
TBI: What can you tell us about Emergent Heart? From what I could tell, it's a group started to promote local musicians in the Athens community but also raise money for various causes?
YB: Emergent Heart is a wonderful organization and recording project. It's equal parts music project and philanthropy, in that it puts together musicians from around the nation, though most are in Athens.  They write music, then the proceeds from the sale of that music goes to Nuci's Space, a support center for musicians in Athens.  The hope is that with the release of our newest record we'll be able to branch out and support groups looking to start programs similar to Nuci's in other towns.
TBI: You played with The Premonitions as well, before bring the Young Benjamin project to the spot light. What's your history with growing up in Athens and becoming involved with the culture there?
YB:  I get this question a lot and oddly enough I didn't grow up in Athens, I actually moved here for school. I think people naturally assume I'm an Athens native because I was able to quickly acclimate into the culture and begin working with a lot of veterans in the Athens scene at a very young age. The Premonitions were really the door to that culture. I started playing with them in May of 2010 and through that band was able to meet a lot of front runners in the scene and become a part of the culture here, eventually meeting many of my now label-mates.
TBI: Your debut EP The Fall was released with the help of Athens based Marazine Records to much acclaim from local and regional publications. The EP draws inspiration from the time you spent working with Alzheimer patients at hospital in town. What prompted you to pursue the field of music therapy and what can you tell us about your work at the hospital?
YB: I've always been drawn to psychology and the medical field. The human mind to me is about as fascinating as it gets. That being said I can't imagine a life where I don't play music, in some way, daily.  When I found music therapy is was obvious to me that I had to pursue this career. It's the perfect marriage of those two loves. At the hospital I saw a lot of patients who were coping with the effects of Alzheimer's and was able to really bond with many of them through music. Being around them awoke a lot of memories I had hidden away from when I first met people suffering with this illness, particularly my great-grandad. The work really attuned me to exactly what I witnessed as a kid.
TBI: Were there any particular events or people that specifically influenced you to directly pursue the YB project, or that acted as motivation for you to complete it?
YB: The experiences I had in the last year of my great-grandfather's life definitely influences the Young Benjamin project. In fact, he's the person who coined the name "Young Benjamin" in his last year of life. I was 10 when I met him and only knew him for that one year, but the experiences I had with him, the things he shared with me, and the amazing people I met at the nursing home where he lived really left lasting impacts on me. I felt like I owed it to them and to him to spend time writing about the not-so-pretty aspects, the reality really, of living and dying.
TBI: You've already began to make an impression around the state with your recent showcased performance at Savannah Stopover, various showcases around Athens and most importantly, your upcoming set at Mercer University's annual free music festival Bearstock, where you'll be sharing the stage with everyone from chart-toppers Far East Movement and Yellowcard to tour-savy groups The Front Bottoms and Ocean is Theory. What marks the next phase for getting this project out on the road and your record into people's hands?
YB:  Right now I've begun steps to tour extensively in the Fall behind the new record. I've also been applying to and receiving offers from a great deal of festivals, which I love. I'm super stoked for Bearstock and finally playing in Macon, not to mention meeting some of these bands. For me the next 6 months represents a big push to get my music out so expect to see a lot of regional dates and a national tour, which is looking like it's going to take place in November.
TBI: Sometimes other amazing qualities of the city can be overshadowed by the world famous music scene. All things music aside, what's been your favorite part about growing up in such a culturally in-tune area?
YB:  Though I wasn't raised in Athens, however, I can speak to the amazing perks of living in Athens, having grown up in a not so culturally in-tune area. Athens is great in that the University really supplies the town with a lot of life. Outside of music and in the music scene there is a fantastic sense of cooperation, be it in business or art. There  is also really no stigma attached to being an artist or musician which I hope will spread to other areas. It's amazing to be in a place that values culture the way Athens does.
TBI: The first full-length is due out in August and you let us know that you'll be previewing tracks from the album every few months until the release. Does the album (untitled as of yet?) pull from ideas you didn't cover with The Fall or have you progressed and nurtured those themes into something that you feel like you better understand and want to express?
YB:  Good question. The album is going to be called "Quiver" and like "The Fall" will cover an over-arching concept in its 9 songs. The album takes a look at differences between appearance and reality be they spiritual, psychological, or physical. This album is a great deal more introspective than the last. The Young Benjamin project to me really symbolizes a contradiction in appearance and reality in my own thought. I often get asked how such a put together guy writes such anguished songs, and I have to wonder if perhaps knowing Young Benjamin equates to really knowing my own thoughts. That being said, I think it will be a 9 song self portrait of a life that never existed or maybe of every life that's ever existed I'm not really sure yet. Deep down we all have hidden agendas, thoughts, insecurities. I hope to expose mine and maybe they will resonate with some of yours.
TBI: TheBlueIndian.com is thrilled to have been chosen to exclusively release the first single from your upcoming album, a track called "Narwhal". What do you have to say for the track, a warm and buzzing look at what Summer is going to be?
YB: This track is from smack in the middle of the record. It's a wavy tune that will ultimately explode out of the very dark track that precedes it. It's full of a lot of Young Benji noise monsters, which I love. The tune is an exploration of conscious self destruction and the pleasure that is sometimes associated with the familiarity of agony. It's taken from the middle of the journey I hope "Quiver" will take you on, more puzzle pieces to come for sure this summer.
TBI: Thanks so much for talking with us Matt and we look forward to seeing you in Macon on April 14th!
YB:  Thanks for your support and all you do! By far my favorite Georgia music blog, seeyah then.
TheBlueIndian.com Unreleased Exclusive: