March 2013 "Band of the Month" – LITTLE TYBEE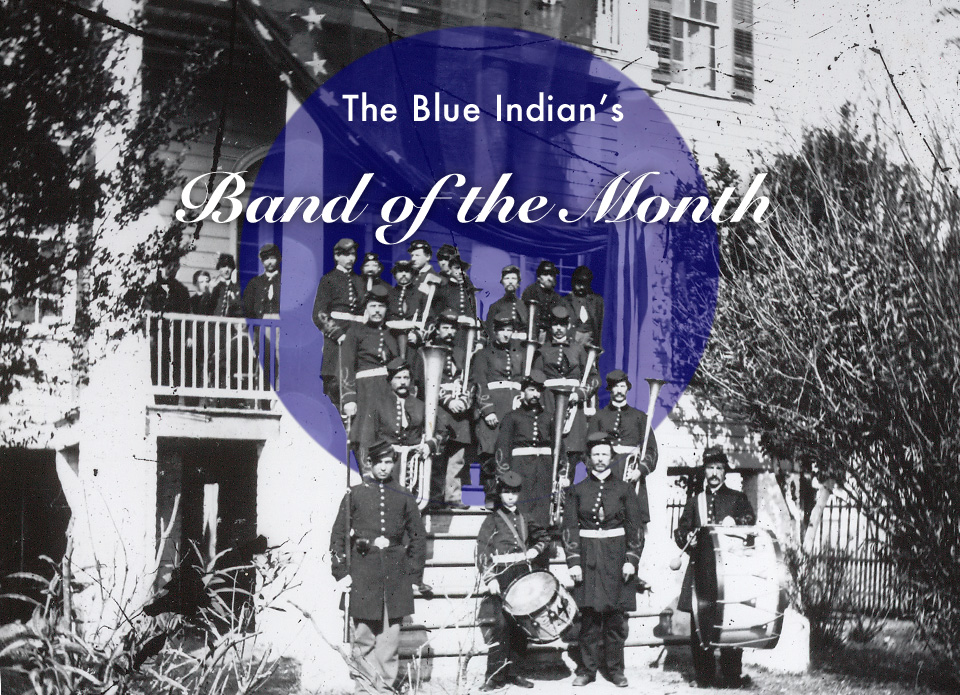 When I started the "Band of the Month" feature last year, I had no idea we would be introduced to all the amazing artists that we wound up working with. From a feature with now-indie-giants, Of Monsters and Men, to the beautiful bedroom tunes of Faye Webster, the site found community and excitement in this feature. As we move forward into 2013, we plan to continue to share with you music that we've grown to love. Thanks for all your support these past few years. 
– Sean Pritchard
Little Tybee has put out two of my favorite albums of the past few years. Their music is beautiful, intricate, and poetic, and they're strive to share their creativity with anyone that wishes to be a part of it. The Atlanta-via-Savannah band will soon be your new favorite thing. Their newest album, For Distant Viewing, will be released on April 9th through Paper Garden Records. They will be on the road throughout March with Colorfeels. 
Before anything else, thanks to you all for making such a beautiful album. At an especially stressful time, For Distant Viewing has kept me sane these past few weeks. It's marvelous. As you close out one season of the band and move into another, what has become most exciting for you?
(Pat Brooks – Drums – All Answers) Releasing a new album is one of the most exciting aspects of the "band life". It almost always means you're about to embark on a promotion frenzy and travel around to new places, meet some great bands, and experience the landscape of the country. I think we all love recording and being perfectionists in the studio, but there's something to be said about playing live every night in a different city. It's a rush every time. The level of tightness as a band that occurs from doing that consistently is insane. It's almost like our brainwaves start syncing on stage; this raw, inexplicable connection between five other musicians is something I look forward to every tour season.
Your last release was recorded in various homes and studios around the Atlanta area, but still carries a very cohesive feel. Did you follow the same route this time around or was their a more structured recording plan?
The original idea was to record For Distant Viewing on our own, much like the way we did Humorous To Bees; record drums at my house, send it to Brock's for vocals, repeat to infinity until it comes back to me for mixing. I actually have some home demos of a few of the For Distant Viewing tracks that are lurking around in my iTunes library. But when you record yourself, or any music you're emotionally attached to, it can be a challenge. It's tough to be able to make objective decisions about compression and EQ when you're also thinking about which variation of a part fits best musically. You never really know when it's "done", it never feels "done", there's always something you can add or take away or edit, and that's how we were working on Humorous To Bees; changing stuff right up until the last possible second.
We decided we wanted an outside engineer to take the reigns, so for this project, we enlisted the expertise of Ben Price at studilaroche to record and mix the album. He has an amazing home studio that just has this fantastic vibe, tons of boutique gear, keyboards, amps, mics, it's like a playground for gearheads. Ben also co-produced the album with us; it was great to have an outside voice of reason to stop us from recording 11 layers of guitar tracks. We recorded at his studio whenever our schedules aligned for a little over a year.
We then took the mixes over to Glenn Schick for mastering, who apparently has a proprietary process he uses for mastering that's so secret he had to kick us out of the control room every time he loaded up the next track. We had a feeling we were going to get something great, and we were right. The album just wouldn't have been the same without Ben and Glenn on board. So, the short answer is yes, we did take a more structured and less DIY approach on this album.
Over the past two years, what's changed for the band – whether personally or as a whole?
I think we've matured a lot since our last release. Personally and musically. Back in the early touring days we almost always stuck together while exploring a city on a day off. Being around a group of people 24/7, even if they are your bandmates that you love like family, can lead to bickering no matter how hard you try to avoid it. Nowadays we cherish our time off on the road to go take a walk alone down a beach, or catch the train in New York and get off at different stops and just get lost for a few hours. It's important to remember and embrace your identity in a touring band. I feel like this is a healthy balance that shows in our music as well; we're more comfortable and confident with our individual musical voices, and that in turn frees us to be able to write music that isn't constrained by any particular notion of genre or style. We just play what we feel fits the part. We're writing more as a cohesive unit now, with everyone participating in the process and not just "adding parts". I think that's the been the biggest change for us over the past two years.
You're embarking on the great migration to Austin this March. How many times has the band been a part of South By, and are there any particular moments that stand out above others?
This will the third year we've trekked out to Austin for the festival. Some of our most colorful tour stories have been created there.
One year, our van got towed while we were playing a set. We came back to find it gone, but we had all of our gear with us so we just walked across the street and drank free beer and listened to Reptar blow the roof off (literally, the wind blew the roof of the tent off mid-set) until it was time to play our showcase later that night. We joked that the safest parking spot in town was the impound lot our van was in. $180 VIP parking.
Another year, our guitarist, Josh, had a particularly unlucky day. He got kicked out of the venue we played at earlier in the day for napping in the corner, so he wandered the streets and got thrown out of another bar because he met up with some friends that got a little too rowdy and broke a glass. Then he accidentally slammed his fingers in a door, and on top of that, he got lost and we couldn't find him for like, 2 hours. So here you have this tired, injured, mildly drunk, lost, awkward man wandering around the absurdity of SXSW like a lost puppy, while all he wanted was a place to take a little nap.
Colorfeels joins you for most of this upcoming tour. What's the story between the two bands and what do audiences have to look forward to from them?
We first met the guys in Colorfeels at a show we played in Nashville a year or so ago. We really enjoyed talking with them and a few months later got a chance to check them out live in Atlanta at The Star Bar. They have a similar way of approaching their compositions to how Little Tybee does it. They seem like they tend to steer away from traditional pop song structures and they do really well at creating an ever evolving journey for the listener. We are excited to share the stage with them over the next few weeks!
With five consecutive shows in Georgia on the upcoming tour, it's clear that you all have a strong fan base in your home state. What do you find most different about the audience and markets in Georgia compared to other parts of the country, if anything?
I think the only difference between our Georgia fan base and the rest of the country is we have a "hometown draw" here. A lot of the folks that come to our Georgia shows are people we went to high school, middle school, or even elementary school with. It's good to be able to play for your friends and have your friends support you in your artistic endeavors. That said, our fans in the rest of the country are just as passionate about what we do, and that means a lot to us.
Savannah Stopover is back, and you all are playing again! What can you tell me about your history with the event, the city, and why should people spend their weekend in Savannah for the festival?
We've been a part of the Stopover Festival since its inception. We've watched it grow firsthand in the few short years it's been around. I feel like it's a great thing for Savannah; you definitely have a lot more out of town bands that stop to play in Savannah year-round because of the successes of the festival and the reputation it's built for Savannah. I think it has the potential to become the South By of the Deep South.
You've already released two videos for songs from the upcoming album, the title track and "The Boldest Lines". The latter, featuring fellow ATLian Cousin Dan, is both beautiful and peculiar, but captures the movement of the song perfectly. You'll be recording single shot videos for each of the remaining songs on the album, correct?
Yes. The idea behind it is that for every song that has ever existed in the history of recorded music, there's a YouTube video that someone posted that has the song with just a picture of the album art. This is great, but we want to release these videos as a replacement for those "audio-only" videos. Not extremely visually demanding, but still something that's more interesting than a solid picture of that viewfinder that's on the album cover. To be clear though, our intentions are not to exclusively control the content or block copyright infringements, we honestly don't care, we just thought it'd be cool to give people a better option to make a YouTube playlist with.
In late 2011, you completed Boxcar Fair, along with the talents of a number of artists from around the country. Can we expect something along those lines for any of the videos released this year?
We don't have any specific plans for a Boxcar Fair 2.0 per se, but we have been kicking a few ideas around for some new videos that would incorporate Tom Haney's artwork and Andrew Kornylak as Director of Photography. It was just such a great team that it'd be a shame not to collaborate again, we just don't know what we'll collaborate on yet.
Parts of the new album make me think of Beasts of the Southern Wild, I can't really describe why though. Have you seen the film, and if so, what did you think of it?
I actually just watched that film a few nights ago, it was incredibly well-done! I was bummed Quvenzhané Wallis didn't get the Oscar though, but still an amazing performance regardless. One of the best films I've seen in a while; it almost felt like a documentary but told through the voice of an imaginative young girl. I'll definitely be watching it a few more times.
I think we each have our mantras and sayings that help us navigate through life. Are there certain passages or ideas that you remind yourself of each day to help better understand the world?
If you put in the time to do something right and stay true to yourself in the process, your results will always be positive. I feel like this has been the unspoken Little Tybee mantra over the years; we're perfectionists, we take a little longer to make an album, but we put all of ourselves into it and make sure it's perfect before releasing it into the wild.
Seeing as the band used to call Savannah home, I have some questions about the city..
Best place to watch the sunset:
It's a tossup between Bluff Drive on Isle Of Hope or my Mom's house on Tybee Island.
Best dinner under $10?
Angel's BBQ! Best 'Que for miles! Andy and Eileen are the best husband-and-wife restaurant-running duo in the 912. I personally recommend the Angel's Special with greens and mac and cheese. They also have a vegetarian sandwich called the "Faux-Q" for the herbivores.
St. Patrick's Day in Savannah is:
Imagine SXSW, but replace all the indie bands with bagpipes and drum and bugle corps. Multiply the number of Guinness per capita by about 20, turn everything green, and throw a whole bunch of turkey legs everywhere. That's St. Patrick's Day in Savannah. That doesn't make me sound jaded, does it?
Joking aside, it really is a lot of fun. When I was a kid, I thought St. Patrick's Day was a national holiday and all the schools closed for it, but turns out it's just Savannah that takes it so seriously. If you haven't been, you gotta go at least once. It's an experience you'll never forget. Well, you may forget it if you end up like one of the folks who black out in the middle of Chippewa Square before lunch.
Favorite park:
Forsyth. No contest.
Savannah really needs:
A few years ago I probably would've answered this question differently. In the past, Savannah struggled to find a voice in its music community. It was a multi-faceted issue that affected everything from the venues, the promoters, the bands, and the fans. But in recent years, we've seen this boom of new music that's given a unique voice to the Savannah music scene. It's made more venues that cater to live music, more engaged fans, and has laid a great foundation for new bands to grow and flourish in a community that supports them. Our friends in KidSyc@Brandywine and BEAR FiGHT! (who are also Stopover Performers) are prime examples of this grassroots local music movement. The Stopover Festival has been a huge benefactor in attracting out of town bands to play Savannah, and has made Savannahians excited about music again. So, to answer the question, I don't think Savannah really needs,anything. An IKEA would be pretty dope though.
[youtube id=sAnTzCMsBRM]