Shaky Knees Music Festival: May 4th – 5th (Win Free Tickets)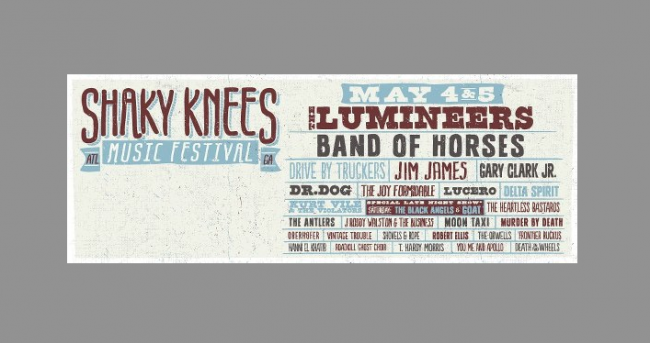 Shaky Knees Music Festival
in Atlanta, Georgia makes its first year festival debut in just a matter of weeks. Created by Tim Sweetwood, head talent buyer for the Masquerade for nearly a decade, Shaky Knees is a two-day, three-stage festival located in the Masquerade Music Park (the backyard of the Masquerade, essentially), a stage in the Old Fourth Ward down the street, and a stage just off of North Avenue.
Generally speaking, the acts on
the lineup
have really been making their rounds on the festival circuit in 2012. In fact,
Roadkill Ghost Choir, Moon Taxi, the Joy Formidable, Lucero, Jim James, Band of Horses
, and
Dr. Dog
have all been covered by this team at
SXSW
,
DeLuna
, or for TBI Presents. Shovels and Rope is an act we look forward to on Sunday. Their record was a favorite of 2012 and an outdoor May festival seems like the perfect time to see them.
There is very little staggering to the schedule. This means that if you, like me, haven't seen T.Hardy Morris or
frontier ruckus
live, you have to pick one – aka the woes of attending pretty much any music fest. If you haven't seen Lucero or The Orwells, again, pick one. My advice is to find a stage you like and relax. A lot of time went into making sure the acts on the stages mesh well, and if you need to transition to another stage, there are about 12 hours a day free for walking around,  getting a soda, and getting situated to watch another set at a different stage.
What we're looking forward to about Day One: Hopefully meeting up with the random person who wins the free tickets to find out how they heard about the blog; taking a frat nap during the second half of Band of Horses set; being in yet another beautiful Atlanta park; Late-night show with The Black Angels & GOAT; Meeting up with the DOTW boys; Food trucks; Hanging out at The W Atlanta Downtown ($129.00 a night, yo); Beer; Anything Jim James
What we're looking forward to about Day Two: Hangover brunch; the sisters in von Grey; reuniting with Swear & Shake; reuniting with frontier ruckus; everything about the lineup; oh, it's Cinco de Mayo; all the girls at The Lumineers set; Food trucks; This festival is awesome; Taking Monday off of work