Spotlight On: Young the Giant
Author's Note: For Music Midtown 2011, festival organizers set aside an area where bands were invited to meet and field questions from members of the media. Of the bands that participated, I was most excited to talk with Young the Giant, a band that, between performing at the MTV VMA's and touring with Incubus, seems set to burst into the public eye.
Young the Giant is of the brand of peculiar band name, along with the likes Blind Melon or Captain Beefheart, that, by virtue of its oddity, suggests it holds some significant personal reference or literary allusion. But for this SoCal Indie rock quintet, there is no back story; theirs is a name meant only to capture a feeling – it serves as a symbol for the band and is accordingly malleable, constantly evolving to suit the mood and need of the moment. At the present stage, the name expresses one of the band's central dichotomies, emphasizing their youth and inexperience against their unexpected jolt in popularity, spurred recently by a performance at the MTV Video Music Awards and a run of shows with Incubus. The members of Young the Giant were barely out of high school when they signed to a label, so being able to make a name for themselves, much less a livelihood in the music industry was not their original expectation. Regardless, they released their debut album a year ago this October, and already they're dealing with the costs of rising fame and, as a consequence, learning what it means to live and work as professional musicians. "We were eighteen and nineteen years old when we first signed, so we had no idea exactly how much work and effort was ahead of us," said guitarist Jacob Tilley.
Over the past year, however, Young the Giant have had a chance to stretch their legs and cut their teeth, and as a result have come into their own as a live act. During April and May, they embarked on their first nationwide tour, a string of 25 dates with established math-rockers Minus the Bear that the band cites as the period in which they first learned how to behave on tour – how to perform as a musicians, and how to act as an individuals caught up in a largely-transient lifestyle. Over the course of their career, Young the Giant has played with bands both big and small and drawn influence from both, albeit in distinctly different ways. While they willingly admit that with the increased resources and higher profile, there's a glamorous appeal to playing with bigger, more-renowned acts, Young the Giant said that they're actually more inspired by the DIY touring mentality – the unwavering energy and perseverance, the days crammed into vans and the nights crashed out on couches – that is required of smaller bands. Asked to name artists that have noticeably influenced his mentality towards life on the road, Tilley cited Cincinnati-based art-poppers The Pomegranates as a band that he particularly admires despite their relative obscurity, for their honest and humble stage presence as well as their integrity as artists and individuals.
Having spent a year honing their chops on the road, though, the boys of Young the Giant aren't too wrapped up in the moment to look to the future. After finishing the current leg of their tour, they plan to take a break from the rigors of the road, allowing themselves time to decompress and reflect on their past year, and to refocus their sites on writing music. And as with the ever-evolving nature of their name, the band is intent on progressing and expanding the sound they explored on their eponymous debut, all the while working to maintain the relevance and respect they've earned so far. For Young the Giant, though, the first step forward is to take one step back.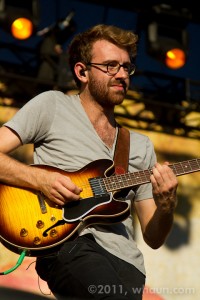 This month, Young the Giant launched a Web site for their most recent project, entitled In the Open, a series of videos in which the band rearranges and translates the songs from their first album to be played in a variety of scenic, pastoral spaces – in the salt flats of Utah, for instance, or beside a river in northern California. For these performances, the band forced themselves to reassess their music, in some cases overhauling their preexisting songs, in others paring them down and adjusting them for solely acoustic instrumentation and wide-open landscapes. Tilley believes that one testament to a song's strength is its ability to be played acoustically without falling apart, and he expects that the bare-bones approach to making music that the band experimented with for In the Open will be a guiding light as they begin to work on new material. He says that, despite the confines and limitations of a bus, the band has remained diligent in writing new material while on tour, opting to compose songs simply and acoustically rather than in the overly-equipped context of a studio. This stripped-down approach to composing has been enriching for him personally, Tilley said, and has encouraged the band to focus first and foremost on establishing a solid foundation for their new songs. Although he's excited for the band to elaborate upon these basic ideas and song structures during their break, he expects their new material will be sonically less dense than their first album, favoring tight composition and arrangement over layers of gloss and sheen.
Young the Giant will finish the current leg of their tour on October 15 at The Starlight Ballroom in Edmonton, Canada.