October 2013 "Band of the Month" – THE DISTRICTS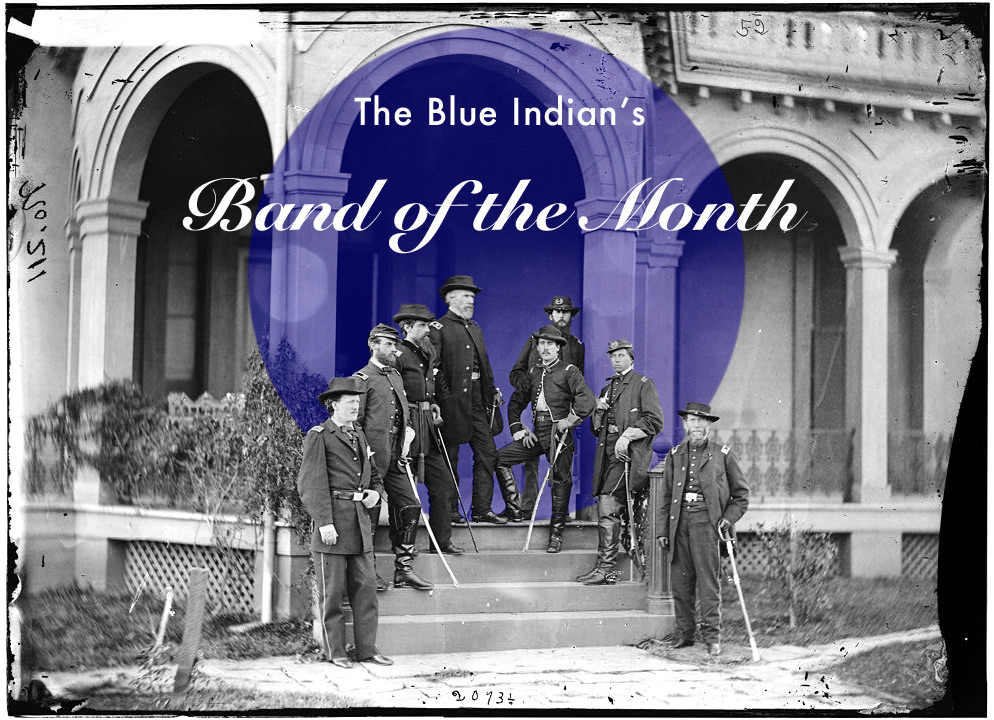 When we started the "Band of the Month" feature last year, we had no idea we would be introduced to all the amazing artists that we've wound up working with. From a feature with now-indie-giants, Of Monsters and Men, to the beautiful bedroom tunes of Faye Webster, the site found community and excitement in this feature. We look forward to continuing to share these incredibly talented artists with you. 
The Districts are an impressive young four-piece from Lititz, in Lancaster County. The band channeled the rock-and-soul vibe of Cold War Kids and Spoon; singer Rob Grote's searing voice cut across the concert hall, blending with the band's smartly-arranged instrumental interplay. They do the very Pixies loud-quiet-LOUD thing, but in a more textured way than simply turning their overdrive pedals on and off. A thundering swell cuts, leaving a clean guitar arpeggio floating in space as Grote catches his breath; the verses build in waves, with the heaviness sometimes derived just from Braden Lawrence's drums. Grote is an intense, emphatic, occasionally bewildering stage presence – he kicks, stomps and snarls, both at the mic and far away – but guitarist Mark Larson and bassist Connor Jacobus hold their own, shuffling and bobbing and giving the overall band a dynamic stage presence. Check out their album Telephone, and watch these guys close – they're moving fast. -John Vettese (WXPN)
For those who don't know (including myself), under what circumstances did you all meet each other and eventually form a a band?
Braden: It's a small town, so we pretty much just met each other in school. I was the last person to join the band. Rob, Mark, Connor, and Josh ( used to sing to but moved to Colorado) were looking for a drummer for the school coffee house, and I jammed with them and then we became The Districts!
I know that you guys call Lancaster, PA home, but is that actually where everyone resides, you practice, and play "hometown" shows, or are you all spread out across the state?
Mark: Yes, we all grew up and met each other and spent 3 or four years living, practicing and playing in Lititz and Lancaster. However, we recently moved to Philly, and now we all live in the same apartment using our basement to practice in. We still love to go back and play shows in Lancaster.
Earlier this year, a post featuring the band made it to the front page of Reddit, drawing a large amount of attention to the band. It was actually how I found out about The Districts. I'm sure you've encountered plenty of other people that now know you because of the post, but have you noticed anything in particular since then?
Connor: Yeah, we have encountered people at shows that said they found out about us from the video, which is pretty cool. The Hotbox Studios guys did a great job on it. We've noticed a few things like more fans at shows and some people would email us about maybe doing a music video for us and stuff like that.
Overall, how was the tour with your friends in Pine Barons this summer? Were you all playing in mainly new markets or mostly re-visiting cities you've been to before?
Robby: It was wonderful! We made great friends with those guys on the tour and for the most part it was all new markets which was a great experience, for sure.
I recently read that you guys have taken some time off from playing out of the area so that you can work on your second full length. How's that whole process be going so far? Are songs still in the demo phase or are you closer to wrapping things up and getting it sent off for mastering etc?
Braden: As of now we have no tour planned, just working on the record. Not really sure how long it'll take but it's been fun so far.
I'm sure that given the buzz surrounding your tour, the area-festivals you've played, and opening slots for the likes of Deer Tick, that you're starting to get some attention from people involved with the business side of things. Has it been difficult being patient about making sure that you're taking advantage of the best opportunity that comes your way or do you feel like you have a firm grip on the direction you want the band to go and will know when it comes around?
Mark: We arent really sure where the next couple months or years will be taking us, but whenever we get the opportunity to work with some people involved in the music business, we want to make sure we know what we are getting into before we make any decisions, the last thing we want is to not have any control over our music or our future. So yes, it takes some patience  but we feel its the only way we'll be able to make a smart decision
Do you all have plans to tour anymore this year or are you holding off on getting on the road until things warm up again?
Connor: We're probably gonna tour around march and maybe make it down for SXSW or sometime during the Spring.
Other than Pine Barons (thanks for the introduction) and DRGN King, who else from Pennsylvania should we be listening to? You guys seem to have a lot going on up there..
Robby: Toy Soldiers and The Lawsuits are good friends of ours from Philly, and Seeds from Lancaster are awesome as well. Three Man Cannon and Hop Along are also super great.
Lastly, what's that one thing about the band that you know people have been dying to know for years and you're finally ready to tell them…
Braden: Rob is actually bald, and has to wear a wig.
"Eight from the Home State"
We ask most bands some form of this, but where can we find the best tacos in Pennsylvania?
Mark: La Cocina Mexicana on Prince street in Lancaster. No doubt. except maybe for Braden's own homemade, all natural, locally grown, pesticide free, free range, organic, sexy, potato taco. You can talk to us personally if you'd like to try
Let's say we have only a few hours to hang in Philly.. Where should we go for the most authentic experience?
Connor: You gotta go to the sewers man. Ask for the Alligator man, he'll let you in.
In five words, sum up Lancaster?
Braden: Sheetz, Sheetz, Sheetz, Sheetz, Sheetz
What are the biggest differences between the culture in Pittsburgh and Philadelphia?
Robby: Well, we weren't in Pittsburgh too long, but Pittsburgh seemed pretty late back, but less funky than Philly.
What's one thing you encountered on tour that you've never encountered in Pennsylvania?
Mark: We played for and elderly racist man at a dive bar in Memphis. He told us some really funny stories about his experiences in New Orleans and what to expect on our upcoming trip there.
What's your ideal way to spend a Friday night there?
Braden: Nothin' like a house potato party.
Other than the cheese steak, what famous foods should we know about?
Connor: Braden's taco's.
What is your next album definitely not going to be called?
What the butt??!!
The Districts – "Lyla" – Out of Town Films
[youtube id=zN-NUC3zzwY]