Win a Pair of Side-Stage Passes to The Stuffing 2012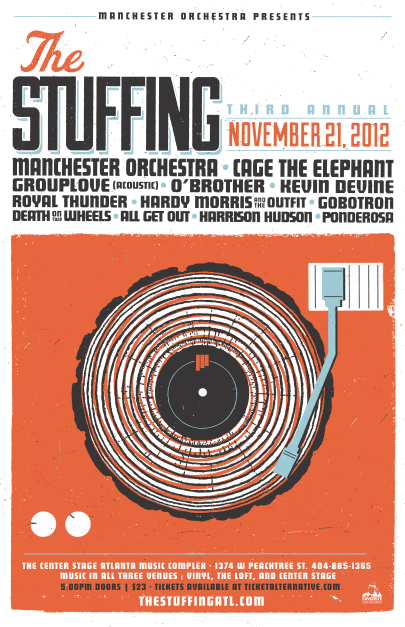 Of course you've heard of The Stuffing! A musical tradition brought over on the Mayflower hundreds of years ago and mysteriously forgotten during the Revolutionary War has since been revived by Manchester Orchestra and the fine folks behind Favorite Gentlemen Records. November 21st, 2012 marks the 3rd annual event since the band started it back up and it looks to be the best year yet!
Because of that, we want you to be there. Not only do we want you to be there, but we want you to be there side-stage, singing, dancing, and sweating along with us. That's why we've teamed up with Manchester Orchestra to hold the best contest since the first season of the X-Factor:
Win a Pair of Side-Stage Passes to The Stuffing 2012

*

!
All you have to do is show us you have purchased your Stuffing Tickets!
To enter: post a picture or screenshot of your Stuffing Tickets order confirmation OR Tickets and post it in 1 of 4 places:
1. The Stuffing Facebook Page
2. On Instagram using the hashtag #TheStuffing 
3. Tweet us a Photo at @thestuffingatl with the photo
4. This page!
If you haven't picked up your tickets to The Stuffing yet get them HERE! 
You have until November 20th at 8pm to enter and we will announce a winner an hour after the contest ends. – GOOD LUCK!
*Side-Stage passes can be used to view two (2) bands' sets of the winners choice during The Stuffing 2012. They are not valid for the entirety of the event. Passes will be available at venue box office the day-of-show.
[vimeo id=50507852]