Q&A with The Whigs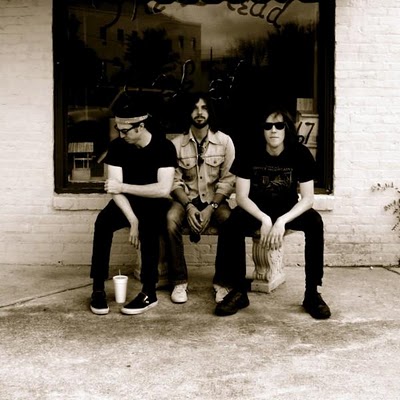 Parker Gispert, Julian Dorio, and Tim Deaux are not so much figures of a historical political party misplaced in our present time as they are among the Princes of today's Rock 'n Roll.  As they get ready to drop IN THE DARK on March 16, which is their third full length album, the band will arrive to showcase at SXSW on the back of eleven tracks that are as punchy as they are thoughtful.
Lead singer Gispert delivers stirring vocals that coat each track like lime green paint to the inside of your garage.  There is no chance you'll ever catch The Whigs going softly on this album, although there are moments, like in "Automatic," when you find yourself easing into melodies that are reminiscent of generations old pop.  Songs like "Hundred/Million" and "In The Dark" show lighter shades of grunge and offer more punk-reveling tempos.
The guitar is gritty and enthused throughout, making songs like "Someone's Daughter" feel like Gispert is breaking down your front door (only to offer you a good time though… nothing violent).  Equally explosive, Dorio hits the drums harder than most of the indie rock bands you've been listening to for the past few years.  Add in Deaux's bass play, which helps to round out the curves and accentuate the highs on IN THE DARK, and you have one of the most attractive rock albums of the year.
I had the privilege of shooting a few questions to The Whigs' bassist, Tim Deaux to find out about the recording process for IN THE DARK, what debutant balls must be like, and who the coolest bands are to tour with.  Check it:
Beth Yeckley (The Blue Indian): It's pretty rad that you started out by recording your first album in a frat house with equipment purchased (and later resold) on ebay, and then had the opportunity to record your second album in the studio that Led Zeppelin had once used.  As you've become more famous and clearly a notable band, what have the changes (like money, fame, etc) meant for your creative process?
Tim Deaux (The Whigs): First of all, famous is not a word any of us would use to describe our band. But, we do work and tour hard in hopes of exposing our music to as many people as possible, and we have enjoyed a moderate level of success because of this, as well as many other outside variables.  We have been very privileged to work with good people and great bands that have given us opportunities.  Essentially, a band like ours does anything and everything within its power to do what we love doing; playing music.  Sometimes a band with little resources has to get creative.  Sometimes a band gets lucky and catches a break that exposes new possibilities (i.e: record deal, recording budget, etc).  You just have to take what you can get and connect the rest of the dots on your own. As far as what these sorts of opportunities have done…they've allowed us to concentrate on making music.  That's the idea, right?
Beth: For your third album, IN THE DARK, you had the opportunity to work with Ben H. Allen in Athens.  Although collectively you worked with three different producers and in a couple different towns, what was it like recording in the city where it all began and also working with someone who had been a loyal fan from the inception of the band?
Tim: It was all very natural.  Working at home with a friend just seemed very normal.  Ben was already so familiar with the band and it's trajectory that there was really no time lost in courtship rituals. There was a certain level of trust and understanding that already existed.  We were able to hit the ground at full speed. Athens was a very important part of the recipe for this album. With as much time as we spend on the road, it is rare for us to experience the bliss of being home.  Waking up in your own bed does things to your spirit, and having a network of friends and neighbors to bounce ideas off of was invaluable.
Beth: The Whigs formed back in 2002, with a different bassist.  Clearly, since you joined the band in 2007, you've had an invaluable influence on the direction and creation of the music.  Was it difficult to join Parker and Julian after they had been together for so long?
Tim: Not for me. I had known these guys for quite some time and was a very big fan…Especially of the way Julian hit the drums. I found an instant attraction to playing bass next to him on stage.  This bond carried over into the song writing process for IN THE DARK, where Julian and I sought to compose comprehensive drum and bass demos as an outline for Parker's vocal melodies.
Beth: Give 'Em All A Big Fat Lip definitely had more of a punk and pop feel to it, while Mission Control was easily hailed as your entrance into the world of rock 'n roll.  Does your sound evolve naturally over time, or are there clear directions that you try to aim every new album in to accomplish a defined sound?
Tim: Whether it's the months of endless touring accompanied by manic binges on records by artists such as Nick Cave, Herbie Hancock, and Roger Miller, or it's us simply maturing as musicians and individuals, we are constantly being influenced by new experiences and it can't help but show-up in our music.
Beth: This year you'll be showcasing at SXSW… It seems like playing at this event is the music equivalent to a debutant ball for up and coming bands.  Since you've played there before, how important is it for you to be going back there this year?
Tim: Well, I've never been to a debutant ball, but we have been to SXSW several times and I'm sure it's just as sweaty.  This year is especially important for us, not only because the festival coincides with the release of our third album, but because we are each long overdue for an ice cold Lone Star and a heaping helping of Frito Pie.
Beth: You've toured with the bigger bands, you've played (and will play) SXSW, you've got pockets full of great reviews from publications like Rolling Stone to smaller ones, like The Blue Indian…  now what?
Tim: Let's go surfing and get sunburns.
Beth: By the way, which band has been the most fun to tour with?
Tim: The Dead Trees, Wax Fang, We Are Scientists, and Kings Of Leon are the most fun dudes I know.
Beth: A lot of bands end up collaborating together to create new music, or their members branch out to create new bands… who would you love to collaborate with in the future?  And if you could quit the band (temporarily) and start up a new band, who would your new members be?
Tim: I'm working on an album with my Mom and Dad.  They are my favorite band mates. Lookout!