May 2012 "Band of the Month" – ALL TINY CREATURES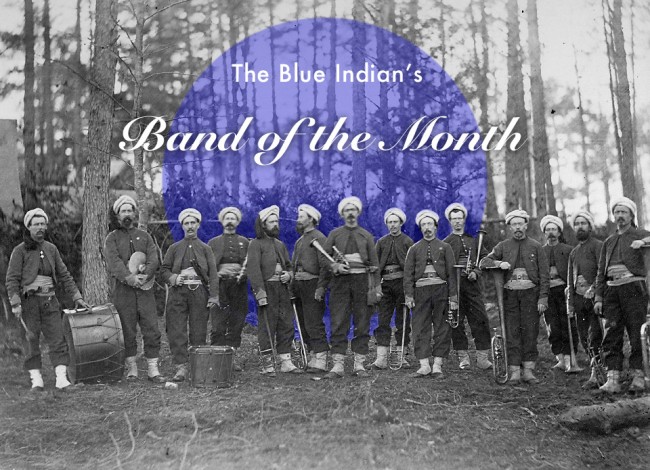 We've been honored to have such a talented lineup of bands of our Band of the Month series. The series is definitely something we should have started last year but nonetheless, we've been able to speak with bands that we've been able to watch grow over the past months and it's a pleasure being able to work with them. Just in case you missed:
January 2012 – CUSSES
Feburary 2012 – OF MONSTERS AND MEN
March 2012 – EXITMUSIC
April 2012 – YOUNG BENJAMIN
TBI's Band of the Month: ALL TINY CREATURES
All Tiny Creatures, the Madison, WI based quartet, introduce vocals on Harbors, adding a new dimension to their sound as well as to their entire creative process. As songs began to take shape, they were shared with a close (and very talented) group of friends. These were instruments that could talk back. Joining All Tiny Creatures vocalists Thomas Wincek and Andrew Fitzpatrick are Justin Vernon (Bon Iver), Roberto Carlos Lange (Helado Negro & Epstein), Phil Cook, Brad Cook, and Joe Westerlund (Megafaun), Ryan Olcott (12 Rods, Mystery Palace), Matthew Byars (The Caribbean), and Jennifer Fitzpatrick (a scientist and Andrew's wife).
This mix of control and community is audibly liberating, balancing what it means to take the primitive urge of music and to push it through machines. The result is just downright beautiful. All Tiny Creatures captures the mood of a sunrise, the hum of a factory line, and the swirl inside your mind, all at once. Harbors honors a whole era of musical history, and, as you nod your head to the beat, writes a new chapter, all its own. This is truly modern music." – Sarah Padgett Heathcott
TBI (Sean Pritchard): First things, thanks for taking the time to chat with us. Where are you all at right now?
ATC (Andrew Fitzpatrick): No problem. Right now we're all at our respective homes in southern Wisconsin. We flew back from Portland last week.
TBI: You all just finished a string of dates on the West Coast with your good friend Justin Vernon and the Bon Iver crew. What  can you tell us about the tour?
ATC: The tour was great. We've been trying to book a West Coast tour for a while now, and it felt really good to finally get out there.  The Bon Iver shows were nuts — really big rock n' roll concerts. Certainly the biggest we've played thus far. The shows went really well, and we had fun hanging out with the whole BI crew… such a great group of people. We managed to book several other (non-BI) shows as well, so we tried to make the most of it. San Diego and Eugene were definite highlights… we played with Damien Jurado and Peter Wolf Crier in San Diego, which was an awesome show. And we played a house show in Eugene toward the end of the tour… it was probably the funnest show we've ever played.
TBI: I read that Vernon has been collaborating with Thomas [Wincek] and a few other close friends for the Volcano Choir recordings since 2005. Is the band's relationship with him a product of a closely knit community in Wisconsin or does it predate the days of playing music and writing together?
ATC: Tom, Justin, and I (Andy) all met a couple years before that when we were living in Eau Claire, WI. Tom was collaborating with Justin's then-DeYarmond Edison bandmates Brad Cook and Joe Westerlund at the time.
TBI: It seems that you all truly enjoy your craft and as a result, have wound up working with multiple groups as well as your own personal writing. 2011 marked the release of your first full length album, a practically unanimously well received collection titled Harbors. The album features a collaboration with Vernon that stands out but is easily no better than the other tracks. What were the band's methods for how the record was written and recorded?
ATC: A few of the songs were written by Tom around the same time as the material on our Segni EP, before the band was fully formed. For the other songs, we would come up with a melody or loop of some sort, and then develop or deconstruct that idea into something else. Some of the songs are based on guitar loops that Tom or I created, which were then micro-edited into completely different melodic and rhythmic contexts. Pretty much all of the guitars, keyboards, and synthesizers were recorded at Tom's house or my house, and the drums were recorded at the Tannery Recording Studio in Milwaukee. We managed to convince some of our friends (including Justin) to record and send us vocal tracks for some of the songs; Tom handled the leftover vocals.
TBI: The record has been out for just over a year now. Has the response you all have seen been entirely favorable and are you happy with the way things have progressed thus far?
ATC: Yes, we've been happy with the reaction to the record, especially considering it's our first LP. Things seem to be progressing pretty well.
TBI: What can you tell us about the musical community in Wisconsin, specifically where you all are from? I know that Garbage and The Promise Ring are from the state and that country music is a pretty big deal, but other than that I'm somewhat clueless.
ATC: There's lots of different stuff going on in Madison, which is basically our home base. Pretty much every part of the musical spectrum seems to be represented on some level or another. As far as heritage, Madison's had its fair share of musical heavyweights… Killdozer called Madison home, renowned jazz bassist Richard Davis has taught at UW-Madison for many years, James Brown's drummer Clive Stubblefield has lived in Madison for a long time, Art Ensemble of Chicago co-founder Roscoe Mitchell lived in the Madison area until recently… and there's a rumor that Steve Miller and Boz Scaggs were roommates at UW-Madison in the 60s.
TBI: Like Daredevil Christopher Wright or Bon Iver, do you all feel that the surroundings where you wrote and recorded the record had a direct impact on the content you produced? Did you all go into the studio with someone or wind up recording and producing it yourselves?
ATC: We wrote and recorded most of Harbors at home, so I suppose the comfort of being at home helped create an environment that somehow had an effect on the music we made. And this is just a hunch, but the fact that we experience extreme versions of all four seasons in this part of the country probably has some sort of impact on the music we make… things are always changing, but there are definite patterns and cycles. And yes, we recorded / produced / mixed the album ourselves.
TBI: What Wisconsin-based artists would you suggest our staff and readers to look into?
ATC: Rain Drinkers, Julian Lynch, Golden Donna, Northless, Altos, Control, Icarus Himself, Josh Franke, Drunjus, Matt Monsoor, Field Report, Spiral Joy Band… definitely forgetting a bunch.
TBI: What does the band have planned for the next few months? Is there potential for East Coast/Mid-West tour dates?
ATC: We don't have too much going on in the next few months, aside from a couple one-off shows in the Midwest. We just finished recording our second LP, so it'll be a little bit until that's released. I'd say there's definitely potential for fall touring in the Midwest and on the East Coast.
TBI: Lastly, if we could ever expect you all to cover an entire album, what would some of the top contenders be?
ATC: Potential top contenders: North Star by Philip Glass, Fernwärme by Michael Rother, Hysteria by Def Leppard, Love You by The Beach Boys.
TBI: Thanks so much for taking the time to respond to all this. Hope to see you all in the South soon.
ATC: Absolutely. Hope to be visiting the South soon.
ALL TINY CREATURES – "AN ISIS"