May 2013 "Band of the Month" – T. HARDY MORRIS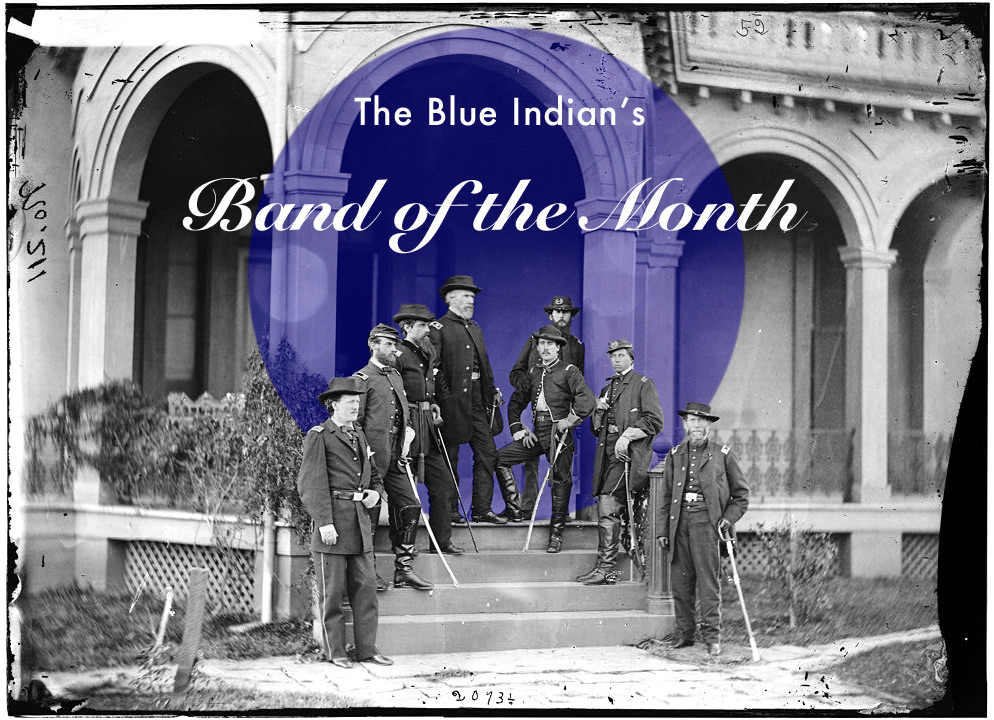 When I started the "Band of the Month" feature last year, I had no idea we would be introduced to all the amazing artists that we wound up working with. From a feature with now-indie-giants, Of Monsters and Men, to the beautiful bedroom tunes of Faye Webster, the site found community and excitement in this feature. As we move forward into 2013, we plan to continue to share with you music that we've grown to love. Thanks for all your support these past few years. 
– Sean Pritchard
"Venerable luminary of psychedelic grunge, T. Hardy Morris is set to release his debut solo album, Audition Tapes, this summer on Dangerbird Records.
Morris is best known for his work with Dead Confederate, a band that he co-founded and has recorded and toured with since 2006. More recently, Morris formed Diamond Rugs, the raggedly righteous gang of rockers that also includes members of Deer Tick, The Black Lips and Los Lobos. Morris took some time over the past year to write a collection of songs that reflect the best qualities of his group projects while also exploring entirely new sonic territories. Audition Tapes exposes Morris' considerable depth as a songwriter and taps into his vast experiences as a performer, having toured extensively over the past 6 years with the likes of the Meat Puppets, Dinosaur Jr., Deer Tick, Manchester Orchestra, Drive By Truckers and many more." – via T.HardyMorris.com
Hardy will be on the road supporting the immensely talented (and bearded) Patterson Hood later this summer, but if you're around the South, make sure to check out his featured slot at the inaugural Shaky Knees Music Festival in Atlanta this weekend. Righteous, dude.
You've been doing the Dead Confederate thing since 2006, but how far back does your solo material go? As in, at what point were you comfortable enough with the songs you were writing that you thought, "Hey, I should record this and play it for some people." ?
I've always had songs that were different or didn't fit with Dead Confederate, but I guess it was a couple of years ago that I started writing some of the songs that wound up on Audition Tapes.  My new bride and I were on our honeymoon and I was opening solo for the band Bad Books. I had never really played solo much before but the tour was the only way we could really afford to have a honeymoon trip, so I did it and it was kind of tough honestly. Taking some of those "full band" songs and making them work solo was not as easy as I expected. I missed the band and the solo thing wasn't how those songs were intended to be anyway. So when I got home these more solo-minded songs kind of fell out and the idea of making a record started forming.
Audition Tapes is set to be released July 30th on Dangerbird Records. Is the album comprised of mostly solo songs or do they all feature members of The Outfit in some way?
There is only one song that I play alone actually. The rest of the tracks have full band or other instruments. Not full band in DC mode or anything, its different than that, but there is a band playing, yes.
Did your personal schedule – between the extensive touring of Dead Confederate & Diamond Rugs – play a lot into your influence in wanting to write, record, and release a record of material that was all your own?
In the way back of my mind I wanted to record the solo album, but I had no plans or anything. After we made the Diamond Rugs record, I hit it off with Adam & Justin and I really liked the little studio there in Nashville, so it made sense to do it.
Other than the obvious reasons, how is this record most different from the previous full-band releases you've been a part of?
There was no band, so, I kind of just had to make it happen while I was in Nashville. If we started on a song and felt like we needed drums we would call  a friend who played drums and hope they could make it over or whatever. A bunch of different people played different stuff on the album and whatever worked out as we went along became the end product. That's why I like doing stuff w/ Cosmic Thug, the vision is in the moment and whatever happens will (usually) wind up better than what you thought up to begin with. If you surprise yourself, then listeners will certainly be surprised when they hear it later.
Choosing Nashville as homebase to record the album seems like an obvious choice, given the fact that Adam Landry & Justin Collins were overseeing the entire project. What moments stand out to you from the time spent working on the record?
Speaking of the no band / drummer dilemma, we were recording a song called "Disaster Proof" one day and couldn't find a drummer, so Justin Called the bass player from his band, Conner. He plays drums, but he's not like a real drummer or anything. (No offense, Conner!). So he came over and I had this specific drum-beat I wanted him to play and Adam kept wanting the song to be faster, so Conner was hanging on for dear life on the drums while we tracked it. It was hilarious and awesome and you can feel the loose abandon in the track.. He killed it.
Ultimately, would you say that Audition Tapes is a collection of songs that you wanted to release because you had all this material from over the years and nothing to do with it, or because you had recently written things that you felt didn't mesh with Dead Confederate or Diamond Rugs?
It was some songs from right after the honeymoon tour, some more recent and some I finished at the studio. But yea, it was stuff that didn't fit DC or D.rugs.
We're thrilled to see you a part of the inaugural Shaky Knees Music Festival in Atlanta this weekend. Shaky Knees is as much of a festival as it seems to be a giant family reunion for some amazing bands that have crossed paths in some ways over the past few years. Any particular highlights you're looking forward to?
I know.. I think Dead Confederate has played with well over 1/2 the bands playing the festival, so yea, it will def be a reunion style thing for me. My highlight will be when I crash the stage during The Lumineers and sing "White Lightning" by George Jones.
Dates are on the books for Dead Confederate, but surely we can expect at least a short solo tour sometime this summer or fall?
Yea, after the DC tour I am doing a run of shows with Patterson Hood of Drive By Truckers. Those shows are in June and should be posted somewhere soon.
Simply put, what do you think Athens needs the most? Not particurally the city, or the downtown, or the students, or the music scene – but just the community.
Athens is perfect ;)
Favorite Dive in Athens: Manhattan Cafe
Favorite "new" band in Georgia: 
Ritvals
What did you think of Leon Russell's show? I was out of town playing a DC show.
First show you remember playing: Walker (from DC) and I played an open mic night at the Red Lion Pub in Augusta.. It was pretty much delay and reverb noise. I sang one song but didn't face the crowd of 3 people.
[youtube id=jBZyRgRkXWk]