September 2012 "Band of the Month" – JUNIOR ASTRONOMERS
We've been honored to have such a talented lineup of bands of our Band of the Month series. The series is definitely something we should have started last year but nonetheless, we've been able to speak with bands that we've been able to watch grow over the past months and it's a pleasure being able to work with them. Just in case you missed:
January 2012 – CUSSES
Feburary 2012 – OF MONSTERS AND MEN
March 2012 – EXITMUSIC
April 2012 – YOUNG BENJAMIN
May 2012 – ALL TINY CREATURES
June 2012 – XAVII 
July 2012 – WOWSER BOWSER
August 2012 – PONDEROSA 
Have you ever had that moment where you wonder what you're doing with your life? It could be when you wake up and it dawns on you that you're going into the same job you've been going to for five years straight. It could be when you've had one too many drinks and you're sitting outside a bar at 2 AM on a Tuesday night wondering what exactly you've done with your life. This is your life. Are you going to spend it wasting away having meaningless conversations at bars? Are you going to spend it working to live? Some people can only live in the past, and talk about their glory days. Others live with the constant hope that the best is yet to come. Is your nostalgia dead?
Dead nostalgia surrounds Junior Astronomers vocalist Terrence Richard.
"You get to a point where you don't even know why you're doing any of this stuff. You don't remember why you're going to these spots. You don't know why you're talking to these people. You don't know why you really give a fuck about that." – "What Is Dead Nostalgia" – Junior Astronomers' Interview with SceneSC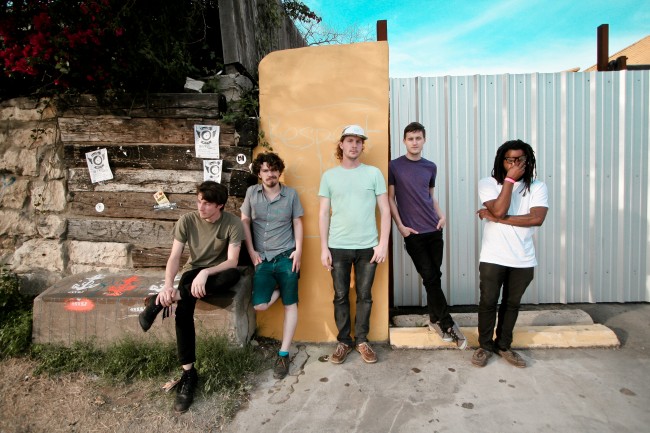 FACEBOOK – TWITTER – INSTAGRAM: jrastronomers
Terrence, I'll start with you; I was a bit taken aback by your recent interview with SceneSC regarding "Dead Nostalgia". I read through it a few times and eventually wound up being very impressed with how you described the motions that so many touring bands go through. Is there anything you would care to elaborate on that you weren't able to include?
First of all, thank you for checking that out. It was a pretty personal interview and I've had people either tell "you went too far" or "wow man, that was honest and refreshing". I just don't want to go about going through the motions anymore. Its difficult not to get caught up in the excitement of being in a band and sort of lose the real reason your doing it in the first place. It sucks but you meet a-lot of people that just stay caught up in being this person in a band and start becoming a terribly self absorbed person. You got to look outside yourself to actually make art that can translate to more then just your small pool of people.
You all decided to name your upcoming debut after this phrase, and you've currently got a video series out following the process of making the new record and everything that surrounds it. Whoever wants to comment on this, please do, but what was difficult part about getting the record to where it is now?
(TR) The difficult part was getting to this point in our lives to make the music. If we rushed in and wrote this record right after our last EP it would have been totally different. If there's one thing I can say I've done the past 2 years is that I lived as much as I possibly could. Without that, this record would have fell short.
It's probably safe to say that most of the people in the South know your band through the tours you've done with O'Brother and the rest of the Favorite Gentlemen crew. Was it touring with O'Brother that introduced you to the community surrounding the label or was it something that you all actively sought out?
(TR) O'Brother helped us out with it tremendously. We shared the same manager at one point so we had two in's. I respect Favorite Gentlemen mostly because most places you go in the South, people are trying to sound like one of there bands on the roster or is super impressed when you mention the name Favorite Gentlemen. Being connected to such a strong brand can only help too.
Without touching too much on the points you made in your SceneSC interview, tell me a bit about the new record.
(TR) The new record for me is a release. We're still in the mixing process but listening back to the songs even every-time I reflect on those situations that got me to the point of dead nostalgia where I just sort of existed. A lot of people may think I'm glamorizing these vices but I'm not. I'm just not going to hide from telling you all the truth.
I assume that you write the majority of the lyrics, so is there a certain line in particular that sticks out to you that could sum up the years of work that have gone into wrapping up this project?
(TR) "Worrisome, soon you will be dying / Hurry up, I don't think you're trying". Being comfortable turns into fear of change and once you fear forward progression you shut down. That was myself for quite some time. Satisfaction can do crazy things to a person.
Is there a release date set for the record yet? Also, I assume you'll be releasing through the Favorite Gentlemen community?
(TR) No release date so far but hopefully sooner rather then later. Favorite Gentlemen will definitely be a part of this record.
Your earlier records seem to touch heavily on the subject of the connection between being physical and being emotional, and how sometimes, they're not connected at all. What has been the hardest lesson to learn regarding the dynamics between the two?
(TR) People seem to be constantly obsessed with having someone in their lives. To the point where to me, it waters down the whole act. My main focus in any relationship I have is to make sure that they know that regardless of where I am, they are with me. I carry all my loved ones with me everywhere. Thats why I try to be polite and always work hard. I don't want to disappoint them. Now if they want me to just stick around and be stagnant, then I don't truly believe they're loved ones at all but just there for the experience.
Moving in a different direction, what can some of you say about living and operating out of North Carolina? You all seem to be surrounded by a very talented handful of bands and it doesn't hurt to have a college town within less than an hour of where ever you are.
(TR) We were all raised and most of us born in North Carolina. Hell, most of us was born in the same hospital. North Carolina is a very weird state but it's coming together very well. We have a lot of exciting festivals now coming up and Charlotte just got the Fillmore so we're getting a lot of the shows that would skip over Charlotte for Chapel Hill. All in all, I believe it is an exciting time to be a North Carolinian in the music scene right now.
You all will be embarking on a tour with your close friends, The Whigs, during the month of September where you'll be revisiting markets around the East Coast that have been crucial in the success of your band. Is there a certain city you haven't visited in a while that you're eager to get back to?
(TR) We had to push back The Weeks tour for October. They are actually recording their second full length right now. We are, however, playing their re-release of Gutter Gaunt Gangster in Nashville hopefully late September. We are hitting the road on a college tour of the southeast and trying to get on some of those college radio stations. Then going on the road with The Weeks in October!
The band is wrapping up the inaugural Favorite Gentlemen tour that's had you one the road for a little over two weeks with All Get Out, Death on Two Wheels, and Harrison Hudson. If you can pick one so far, what would be the particular high point from the time out?
(TR) We got to play on the top of a roof in Manhattan and the NYPD got called. We walked down the stairs and all I could think about was that The Strokes song "New York City Cops".
"10 Quick Questions About Nothing in Particular"
If you could have any song of yours placed on a TV program, which would it be?
(Jeff Saer) I would have to say "Settle Down" for that Teen Mom show.
(TR) I'd probably say "Attacked By Whales" for Whale Wars. That show is banana's!
Long-haired Miley or short-haired Miley?
(JS) I would need the side by side pictures to answer this.
(TR) Definitely Short hair. Shes "edgy" now!
Favorite book of the past year?
(JS) Next Question…
(TR) I haven't read it but that Fifty Shades of Grey book got the older ladies going crazy and we definitely need to tap into that market.
Worst smell of the past year?
(JS) My belly button.
(TR) Can I say how much that movie "Battleship" stank (sorry Rihanna)
If you had to change the band name today, what would you change it to?
(JS) It would have to be something abbreviated since thats whats going down recently.
(TR) Senior Astronomers (too soon?)
Best Ben Stiller movie?
(JS) I know the answer your looking for is The Heartbreak Kid but I'm going to have to say Tropic Thunder.
(TR) Zoolander all day. 
2013 SEC & ACC Football Champions?
(JS) We dont really follow sports but I'd probably say which ever team you want to win.
(TR) I support Jeff's message.
What if God was one of us?
(JS) He'd probably hate the Kardashians too.
(TR) Just a slob like one of us?
They don't think it be like it is, but it do?
(JS) Huh?
(TR) Google it, and now I must cut off my dreads and grow an afro.
JR. ASTRONOMERS' SEPT 2012 TOUR
September 7th – Boone, NC @ Black Cat's
September 9th – Asheville, NC @ Emerald Lounge
September 11th – Greensboro, NC (secret show)
September 12th – Chapel Hill, NC @ Local 506
September 17th – Wilmington, NC @ Soapbox
September 18th – Charleston, SC @ Tin Roof
September 19th – Greenville, SC @ Radio Room
September 21st – Athens, GA @ Caledonia Lounge
September 22nd – Columbia, SC @ New Brookland Tavern
* More Dates TBA
JUNIOR ASTRONOMERS – "SETTLE DOWN"
[youtube id=Rk9h8zjY4Pc]